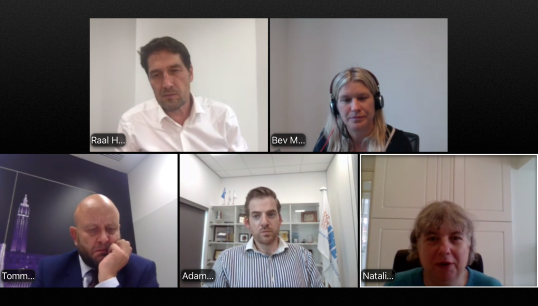 Seafarers will increasingly have to take charge of their own training if they want to get on in the hi-tech maritime industry of tomorrow, according to industry figures – even those older workers for whom computers are sometimes a challenge.
A webinar on 'Empowering the people that power world trade' at London International Shipping Week (LISW) heard that the pace of digital change is fast and covers all areas of work, and is set to continue.
Raal Harris, group creative director of Ocean Technologies Group, a training and software company, said that there is a need to enable seafarers to come to grips with this evolving world.
A modern ship is a hive of data, but much of its potential remains untapped. A vessel produces up to 20GB of data every day. The problem arises when there is too much data and not enough insight, according to Mr Harris.
Artificial intelligence and facial recognition will enable learners to do e-learning at sea at a time of their choosing, he said – and their faces can be read so the machine can detect if a candidate has substituted someone else to take an assessment or steps away from the screen to cheat in an exam.
'The world needs skilled seafarers,' he said. 'There's a shortage of officers at management level. Thirteen months at sea will cause a mental health crisis. We can't afford a drain on talent. Having the right people on your team will be more important than ever.'
They will need technical skills, but also soft skills in areas such as leadership and communication. 'AI and machine learning will support the hiring process,' he said. 'We're training people for a future that's not yet clear. We need to train them in problem-solving skills.'
Adam Lewis, head of training & operations, International Maritime Employers' Council, said it was an 'exciting time for the industry', adding: 'We can innovate and direct the industry in the direction we want to go … What we have the opportunity for now is to speak a more common language between those on shore and on board. We can take some data away to allow them to do the jobs they were hired to do.'
He called for liberalisation of training to allow individuals to take charge. 'We have always paid for all training. If someone wants to get on quicker, they need to take responsibility for their own training as well. There are opportunities for ambitious seafarers but I think a large part of that responsibility needs to be put on the seafarers themselves.'
Bev Mackenzie, representative to the IMO and manager of marine environment at BIMCO, said many professional membership organisations had been unable to keep up with educational and training needs. She favoured the 'ripping up' of the STCW convention and its rewriting. One set of resolutions creates a new set of problems, and nothing is resolved, she said.
Natalie Shaw, director of employment affairs at the International Chamber of Shipping, said the days of seafarers just managing to keep up were long gone. 'What we need more and more with the complexity of equipment going on board… is people able to use that new technology. If they don't have these skills, it's not going to be a career for them in the future.'
Tommy Olofsen, president & CCO of crew management company OSM Maritime, said his company increasingly needs workers to be able to adapt to different vessel types, and agreed it was down to the individual to take responsibility for their own careers.
Crew fatigue was debated. According to Ms Shaw, seafarers need 'to call things out a little bit more.' She added: 'These things are allowed to happen because seafarers don't push back enough. Often they can be coerced into doing things because they feel they can get more money. Until they change their own attitudes and push back, I don't think we will change that.'
---
Tags