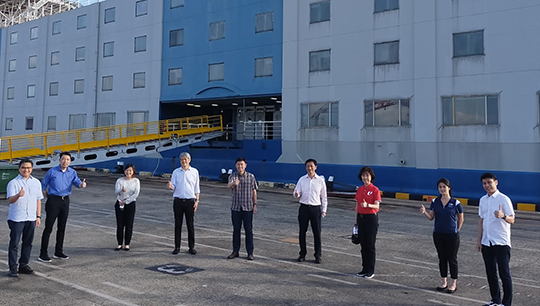 The Maritime and Port Authority of Singapore (MPA) has introduced a raft of enhanced measures to facilitate crew change and further secure safe port operations in the light of the Covid-19 pandemic.
The measures have been supported by Nautilus Federation affiliates Singapore Maritime Officers' Union (SMOU) and the Singapore Organisation of Seamen (SOS).
In a change to isolation rules, seafarers due to on-sign in Singapore, and who have stayed in one of several specific low-risk countries or regions will either no longer be required to observe stay-home isolation periods in that country or region, or only serve a shorter isolation of seven days prior to departure for Singapore. Seafarers from countries and regions not in a specified low-risk area are required to continue serving an isolation period of 14 days prior to departure.
Shipowners, managers and agents are still required to ensure that Covid-19 Polymerase Chain Reaction (PCR) tests are carried out at government-approved or ISO 15189-accredited testing facilities prior to the seafarer's departure for Singapore.
A Crew Facilitation Centre has been established onboard the Port Authority of Singapore's existing floating accommodation. Dedicated to on-signing crew, the self-contained facility has an onsite medical centre, testing and holding facilities, and will house crew for up to 48 hours in advance of boarding their vessels where ship and flight schedules are not aligned.
Off-signers will continue to head directly from vessel to Changi airport, or stay in quarantine at existing designated holding facilities such as the Seacare Hotel or accommodation vessel POSH Bawean for up to 48 hours.
In addition to the enhanced measures, a S$1 million Singapore Shipping Tripartite Alliance Resilience (SG-STAR) Fund has been created by SMOU, SOS, MPA and the Singapore Shipping Association to work with stakeholders in seafaring nations on concrete solutions for safe crew changes, such as initiatives on best practices for crew holding facilities and PCR testing centres.
The Singapore authorities are inviting like-minded international partners to join in this tripartite initiative and contribute to the SG-STAR Fund so that actions can be scaled up.
Ms Mary Liew, general secretary of Singapore Maritime Officers' Union said: 'SMOU, together with our tripartite partners, has been collaborating to overcome the crew change challenges of seafarers since the beginning of the pandemic. With the new initiative of a dedicated crew facilitation centre, which will involve segregating crew in the floating accommodation, we will be able to enhance Singapore's crew change protocol in a safer manner for seafarers and a more sustainable solution for shipping companies. We thank the Ministry of Transport and MPA for the continuous efforts to recognise our seafarers as key essential workers.'
Mr Kam Soon Huat, president of the Singapore Organisation of Seamen, said: 'SOS is heartened that MPA has taken the move forward to ensure safe and timely repatriation of seafarers and getting fresh crew onboard. The streamlined crew change procedures and dedicated facility for sign-on crews are practical solutions to keep the supply chain open and to protect the rights of seafarers. Singapore has sent a strong message to the world that we recognise seafarers as essential workers and we appreciate the crucial role seafarers play in the global economy.'
Port Marine Circulars 35 and 36, relating to the enhanced measures, can be found on the MPA website.
---
Tags