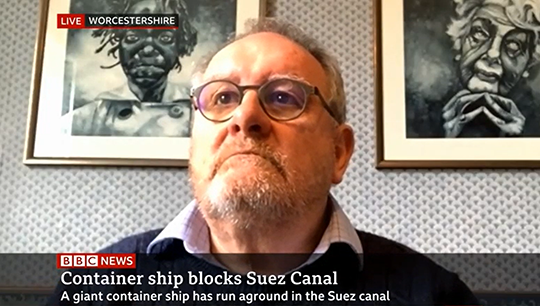 As the media focussed on the startling image of an ultra-large container ship blocking one of the world's busiest waterways, a Nautilus Champion and experienced Master took to the airwaves and used the opportunity to highlight wider issues within the maritime industry.
After news of the Suez blockage broke, Captain Stephen Gudgeon was asked to discuss the incident on national and international broadcasters including BBC1, BBC Radio 5Live, Channel 5 News and CNN, addressing an audience of millions in the process.
Speaking to Victoria Derbyshire live on BBC1 and the BBC News Channel, he expressed concerns about the potential of a 'massive knock on effect' on global shipping as a result of the blockage. He also cautioned that 'at this stage we have no idea what the cause is'.
After drawing upon his decades of experience to explain the complex journey that around 12 per cent of global trade takes through the 120-mile canal, Captain Gudgeon went on to discuss a number of issues currently impacting seafarers, including fatigue and the ongoing crew change crisis.
He warned that unless these concerns were addressed 'there could potentially be disasters anywhere in the world, which could create much more of an environmental or even a fatal reaction, because people are just so tired'.
He explained that 'seafarers are going around the world on ships of this size; carrying containers, oil or liquid gas, and they are tired, because they are not being relieved on time. This is due to the crew change crisis closing down ports where they would be repatriated to go home, and to enable them to get proper rest and recreation'.
He drew upon his own experience, saying that 'I would normally do three months on and three months off, but I left my last ship after doing five months. My colleagues on board who would do four months were doing eight months. The ratings who would normally do six months were doing anything between nine, 10 or 11 months. People are exhausted. So, it's good that you have given me the opportunity to highlight this to people.'
Nautilus International has long sought to campaign against 'sea blindness,' which is the lack of awareness among the public of our dependence on the sea. Incidents like this are a stark reminder of the fragility of the global supply chain upon which we all rely, and the need to safeguard the welfare of the dedicated men and women working around the clock to make it possible.
---
Tags