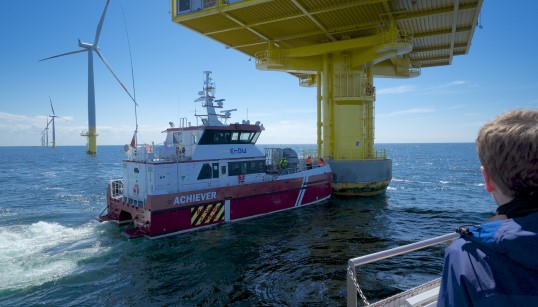 The UK has launched a new initiative to decarbonise the fleets of workboats and crew transfer vehicles (CTVs) that are essential to the growing offshore wind industry.
'Operation Zero' was announced at the COP26 United Nations climate change summit, to accelerate the decarbonisation of operations and maintenance (O&M) vessels. It aims to ensure that there are zero emission vessels operating in the North Sea by 2025.
Wind farm operations and maintenance vessels typically use marine gas oil (MGO) and are estimated to release 284 kt of CO2 equivalent each year. There is an urgent need to begin decarbonising as the industry is growing fast, with the UK planning to nearly quadruple its offshore wind capacity to 40 GW by 2030, while the EU has set a target of 300 GW by 2050.
So far 28 organisations have signed up to Operation Zero – from Belgium, Denmark, Germany, the Netherlands, Sweden and the UK – including Bibby Marine, ScottishPower Renewables and Associated British Ports.
Operation Zero draws on the 2021 roadmap to decarbonising the North Sea offshore wind sector, commissioned from the Offshore Renewable Energy Catapult and the Workboat Association.
'The offshore wind industry has the potential to act as a 'springboard' industry, providing early adoption of technologies and market models that can assist a broader maritime decarbonisation,' the roadmap says.
'It appears that much of the technology exists to deliver the vision of a decarbonised North Sea O&M fleet for offshore wind. Nevertheless, many non-technical barriers remain and will need to be addressed in order to deliver the vision and unlock the social benefits and economic opportunity presented by the accelerated transition.'
To rapidly and fully decarbonise, new vessels will need to be constructed and the existing fleet will have to be retrofitted. Innovation in vessel design and hull types, alternative fuel and electric drive systems, charging and fuelling infrastructure and digitalisation will all be necessary.
---
Tags