Members at work
Union recoups unpaid crew wages from SijFa Cruises following dockside protest
11 July 2021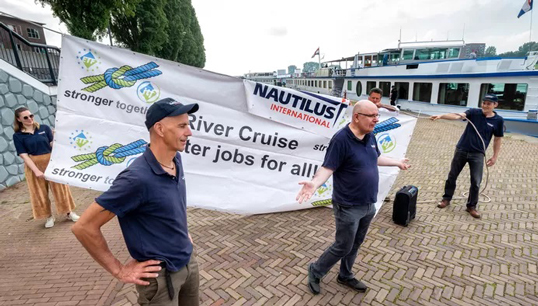 SijFa Cruises has paid more than E20,000 (£17,087.55) in outstanding crew wages and social benefits following a dockside protest by Nautilus International.
On Sunday 11 July Swiss and Dutch Nautilus International officers launched a protest action during the embarkation of a rivercruise vessel in Arnhem, Netherlands, against SijFa Cruises.
The union for maritime professionals said from 2018-2020 it had received several complaints from members working for the company about outstanding wages, unpaid overtime and in two cases unpaid pension contributions.
Other complaints made by crew include poor working conditions and refusal to offer medical treatment following an injury.
Crew on three ships owned by the Dutch shipping company were employed by a subsidiary, SijFa Crewing in Switzerland.
Legal action in 2019 brought on behalf of members in Switzerland was thwarted when SijFa Crewing ignored the court's invitations and shortly afterwards dissolved.
SijFa Crewing subsequently restarted its business in Switzerland with a new address and an authorised Swiss lawyer.
Renewed efforts
In 2020 the union again filed for court action against SijFa Crewing to recoup unpaid wages on behalf of four crew members. On 10 September 2020, a first conciliation hearing took place at the court in Glarus, Switzerland.
The lawyer officially acting for SijFa in Switzerland was present. However, he said that he had had no contact with the management in the Netherlands since April 2020 and could not comment on the four wage demands.
In October 2020 SijFa Crewing filed for bankruptcy in Switzerland and was liquidated. This means that Sijfa Switzerland no longer exists.
Nautilus International is now trying to hold Sijfa legally responsible in the Netherlands, which is very complicated and can take a very long time.
'Nautilus believes that all management decisions and all instructions to employees were always made by SijFa Cruises in Holland,' Nautilus International Switzerland branch official Holger Schatz says.
'We are of the opinion that SijFa Cruises BV, Malden Nederland is responsible and liable for the claims of the employees against SijFa Crewing Switzerland.'
After using the Swiss flag in the past, SijFa now partly operates under the Maltese flag and issues employment contracts through a 'branch' in Cyprus according to local law.
'This case is just one example of the non-transparent corporate structures in the rivercruise industry,' Schatz says. 'Companies often choose according to favourable tax and labour law and, as this example shows, are very difficult to reach legally.'
'A lot needs to change in the river cruise industry. Unpaid overtime and company constructions in Malta and Cyprus are still a big problem at SijFa and elsewhere.'
---
Tags