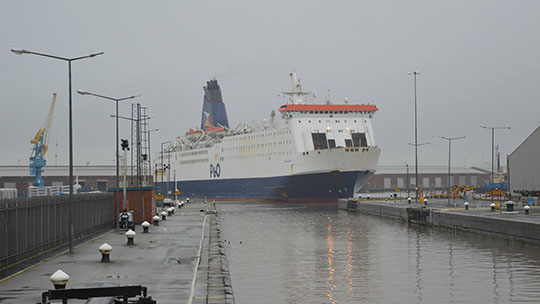 P&O Ferries plans to scrap its Hull-Zebrugge route and make maritime professionals redundant have been slammed by Nautilus International as reckless and potentially putting negotiations with the union at risk.
The Dubai-owned ferry company announced on 30 September it would permanently cease operations between Hull and Zeebrugge. The loss-making freight and passenger service had failed to turn a profit in 19 years of operations. The two ships on the route - The Pride of York and Pride of Bruges - have been mostly idle since April. Sixteen UK officers are at risk of redundancy on the North Sea sector.
The company also intends to sell both the European Seaway and the Pride of Burgundy on the Dover-Calais route, putting a further 12 officers' jobs at risk.
Nautilus has consistently complained about the ferry operator's failure to recognise protocols in its existing framework agreement. That has led to a loss of faith in management from many maritime professionals with years of loyal service.
P&O only told Nautilus of its plans to scrap the loss-making route at the 11th hour on 30 September. Within 15 minutes of receiving the notification P&O had forwarded official notice of redundancies.
'P&O has consistently failed to meaningfully engage and listen to Nautilus during the coronavirus pandemic, which has led to a loss of trust. We are also extremely surprised that the company intends to sell the European Seaway as this vessel has previously been used very successfully as a drydock relief vessel on the Irish sea,' Nautilus head of industrial Micky Smyth said.
Moving forward, the basis of rebuilding trust must be centred around the existing framework, which enabled us to have a professional working relationship over many years, Mr Smyth said.
Nautilus and other unions met with P&O management on 24 September to discuss the financial state of the company. At no point during that meeting did the ferry operator mention closure of the Hull-Zebrugge route.
In 2017 the Pride of York and Pride of Bruges underwent a refit worth £8.5m in Gdansk including major work on their physical infrastructure and passenger areas.
---
Tags