Education and training
Union sounds alarm as pandemic pressures leads to sharp fall in British seafarers
24 February 2022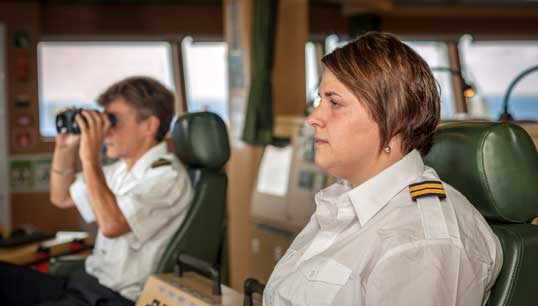 Nautilus International has raised the alarm as the number of UK seafarers active at sea fell sharply in 2021 due to coronavirus pandemic pressures.
An estimated 21,970 UK seafarers were active at sea in 2021 – a whopping 8% decrease compared with 2020 (23,880), according to the latest Department for Transport (DfT) data.
'This decrease is related to the impact of the coronavirus pandemic on maritime training and maritime operations,' DfT said.
'The closure of business and operations is expected to have limited the sea time available to seafarers which is required to apply for certificates. Additionally, those in training may not have been able to attend their courses and training due to closure of colleges and training centres. Similarly, reduced access to exam centres may have reduced applications for certificates from trainee officers.'
Nautilus warned that more needs to be done to recognise the vital role that seafarers play in the British economy and called for increased investment in training and good quality, sustainable jobs.
'This should be an alarm bell for all of us. During the pandemic, seafarers were frontline keyworkers who brought us the food on our tables, medicines to keep us healthy, and fuel to heat our homes, despite great personal sacrifice to themselves and their families,' Nautilus International head of professional and technical David Appleton said.
'Their hard work and dedication should be recognised, and governments the world over must ensure their rights to shore leave and crew change under the Maritime Labour Convention (MLC).
'In the UK, it is patently clear that the government, training providers and employers must now work even harder to ensure sea time for cadets alongside access to good quality, sustainable jobs for qualified officers.'
The falloff in UK seafarer numbers was exacerbated by a large rise in seafarers revalidating their certificates in 2016. These certificates are usually issued every five years, meaning that there may have been a larger proportion of expiring certificates in 2021, the DfT said.
2021 UK seafarers active at sea by type:
9,670 certificated Officers (2020 11,050)
9,490 Ratings (2020 9,060)
1,740 Officer Cadets (2020 1,660)
1,070 uncertificated Officers (2020 1,210)
There has been an overall downward trend in the number of UK seafarers over the past 15 years.
Nautilus has long campaigned for 100% funding of the cost of cadet training and a guaranteed job on completion of studies to help bridge the gap in officer supply and demand.
---
Tags