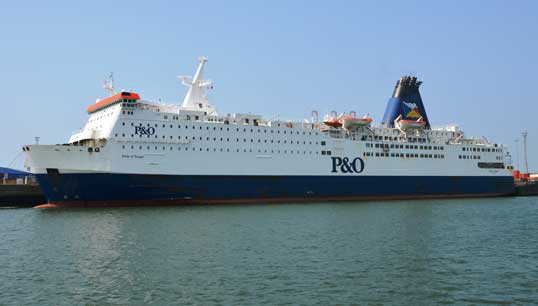 Nautilus International is continuing to resist redundancies for members employed by P&O Ferries as it heads into the next round of meetings on 16 June.
The union said plans to make 108 officers redundant is short-sighted and will lead to the loss of skilled Officer workforce across the company.
Nautilus Head of Industrial Micky Smyth said the Union would continue to resist all redundancies at the company – voluntary and compulsory.
'As a membership led union for maritime professionals and in keeping with our established policy of resisting all redundancies to protect our members' jobs, both at sea and ashore, we continue to outline alternative proposals in seeking to maximise employment opportunities being retained at P&O Ferries and will continue to defend the jobs of our maritime professionals.
Reports by the company that the Union had agreed to voluntary redundancies were 'disingenuous and misleading', Mr Smyth said.
It is a commercial decision for P&O Ferries to pursue redundancies. The company is free to engage with employees to seek volunteers for redundancy to mitigate the possibility of compulsory redundancies. Nautilus will continue to resist all redundancies.
Members who have received notification of being at risk of redundancy and have questions regarding voluntary redundancy or any questions in relation to this, should be raised with the company, Mr Smyth said.
Affected routes include sailings between Hull/Zeebrugge/Rotterdam and Dover/Calais.
The Dubai-owned ferry company has furloughed 1,400 employees since the Job Retention Scheme (JRS) was launched.
Five P&O ships have been laid up: Pride of Canterbury, Pride of Burgundy and European Seaway on the Dover to Calais route, and the Pride of York and Pride of Bruges on the Hull to Zeebrugge route.
P&O proposed that a potential 108 officers are at risk of redundancy on the North Sea and Short Sea routes.
Nautilus said P&O should halt the redundancy process while taking advantage of public funding under the extended Job Retention Scheme (JRS).
Passenger volumes are already increasing on all routes as the UK comes out of lockdown.
In mid-April Nautilus criticised moves by P&O Ferries to drive down members' terms and conditions during the Covid-19 pandemic.
The company wanted to renegotiate rates of pay, revise recall payments, reduce occupational sick pay, revise the redundancy formula to reduce to statutory pay, introduce lay off clauses in its collective bargaining agreement (CBA), remove long service benefits and remove the profit share scheme. P&O Ferries also wanted to introduce a 'no strike clause', against all of which the Union have, thus far, vigorously and successfully defended.
---
Tags