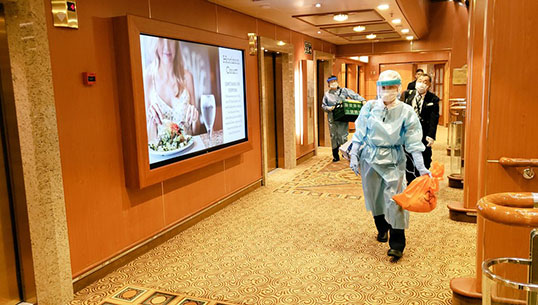 Nautilus International, the union for maritime professionals, is supporting members onboard the Diamond Princess cruise ship, which has been quarantined off Tokyo due to a coronavirus outbreak since February 3.
The union has been in contact with members onboard the vessel to offer advice and assistance.
There are 1,045 crew and 2,666 guests onboard, according to Princess Cruises, which operates the vessel.
As of Friday 7 February, there were 61 confirmed cases of coronavirus onboard the vessel.
One crew member has tested positive for the virus according to Princess Cruises and was disembarked and admitted to a local hospital for treatment and further testing.
'This is a very serious situation for our members onboard the Diamond Princess,' Nautilus head of organising Garry Elliott said. 'It is a very fluid situation and our thoughts are with the crew and their families. Nautilus is ready to help with members' needs at this distressing time.'
Nautilus has also been in close communication with Princess Cruises, a Carnival Corporation company, and has received reassurances that crew are being well cared for.
Princess Cruises has assured crew that all medical treatment will be provided while on board, and for any seafarers who may become ill. This also includes after disembarkation, as per company policy.
Crew have also been assured of their next contract should they become infected.
Crew have been offered free internet access, with increased bandwidth, for the duration of the quarantine.
Due to medical restrictions the crew gym and recreation room remain closed throughout the quarantine. The laundry room will also remain closed.
Princess Cruises intends to return to normal business operations as soon as the ship is cleared.
Diamond Princess arrived in Yokohama early from a 14-day round trip itinerary, which departed from Yokohama (Tokyo) on January 20 and was scheduled to return on February 4.
Princess cruises cancelled the vessel's onward itinerary for an eight-day round trip to allow Japan's authorities to complete a medical review of all those onboard.
The Japanese Ministry of Health has confirmed the quarantine end date will be February 19, unless there are any other unforeseen developments.
The Japanese government is providing Diamond Princess and its crew additional resources and support.
Members with any concerns about coronavirus should contact their industrial official or the Nautilus 24/7 helpline.
---
Tags