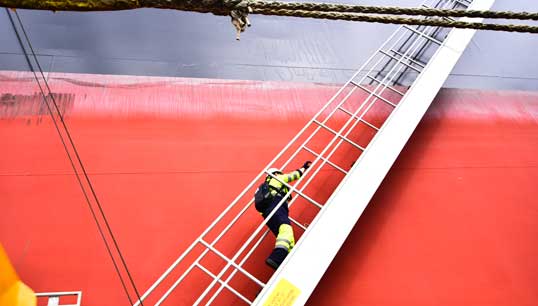 Influential US unions have asked Congress to intervene on behalf of American merchant seafarers whose liberty is being restricted by the gangway-up order imposed by Military Sealift Command (MSC).
Put into effect on 21 March to combat the spread of Covid-19, the fleet-wide gangway-up order forces civilian seafarers to stay onboard, suspending crew shore leave worldwide. The order applies to non-military workers on all US government-owned/government-operated vessels, as well as vessels operated under MSC contracts.
The US Masters, Mates & Pilots maritime union (MM&P), the Marine Engineers' Beneficial Association and the Seafarers International Union asked members of Congress to support their opposition to the gangway-up order, while workers are seeking damages for their alleged mistreatment.
'During the Covid-19 pandemic, American soldiers, sailors, marines, and airmen across the globe are enjoying leave and liberty,' the unions wrote.
'Hundreds of workers continue to embark and disembark MSC ships daily. Only American merchant mariners are restricted in their leave (vacation) and liberty (ability to depart one's workplace/ship when not working). They remain frustrated watching their younger counterparts not being restricted in the same local area.'
The MSC has since conceded that it treated these civilian workers differently than all other personnel working aboard Navy ships due to them being 'significantly older on average (47) than their active duty counterparts making them potentially more vulnerable to effects of the Covid-19 virus'.
The unions said: 'These workers are suffering extreme anxiety, severe emotional stress and pain, and significant family strain resulting from their restriction to liberty while aboard ships in port located in close proximity to their homes.'
---
Tags