Campaigning
University research builds on Union's Fair Treatment campaign against criminalisation
29 July 2020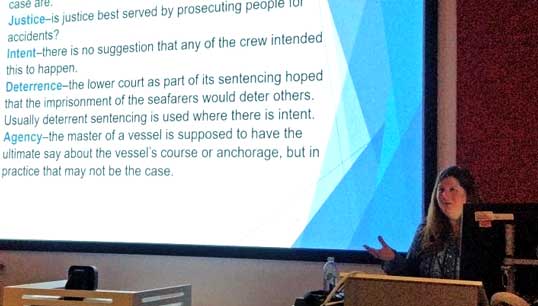 Masters or crew who have faced criminal charges while working at sea after navigational or pollution incidents, are encouraged to take part in university research that builds on Nautilus's Fair Treatment campaign against the criminalisation of seafarers.
The Solent University PhD project by candidate Therese Canning aims to contribute further personal insights to the body of knowledge already gathered about seafarers of all ranks facing or fearing professional criminalisation.
The university research will gather seafarers' experiences to build qualitative data on criminalisation and make recommendations on how it can be prevented.
It builds on the results of Nautilus research on criminalisation, including its 2019 survey which revealed 90% of members were concerned about the prospect of criminalisation. That research led to the development of the Union's recently launched Fair Treatment app, which supports a key strand of the Union's new Fairness Campaigns which tackle the worst of workplace inequalities.
The survey also revealed that one of the difficulties members' experience when an accident happens is that events move quickly and there is very little time to gather thoughts together. Being able to make an immediate note of the circumstance around the issue can aid recollection and help to bring investigations to a swift resolution.
Ms Canning's interest in criminalisation of seafarers came about as she was studying for her Master of Science (MSc) in Sustainable Development, Climate Change and Risk Management: 'The more I found out about the lengthy and cumbersome processes involved in securing basic working conditions, the more I felt that seafarers seem to experience greater injustices and less protection than land-based workers. This feeling crystallised into my PhD proposal about criminalisation.'
Members who would like to take part in this PhD research should contact Ms Canning who is able to conduct interviews on Skype, Zoom or WhatsApp. Either email her at: therese.canning@solent.ac.uk, or telephone:07854682879 or contact via LinkedIn. Information shared will remain confidential
---
Tags