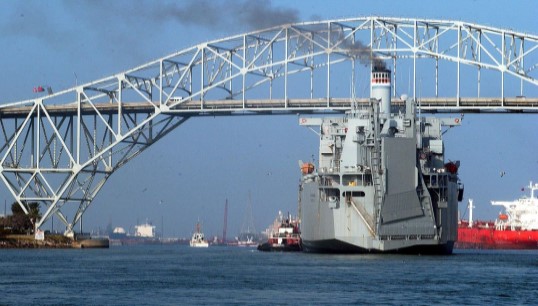 A female cadet has been trapped aboard her vessel without access to essential supplies in a case which highlights the failure of governments to deal with the crew change crisis.
The cadet, a young female apprentice engineer from Panama, has been working aboard a vessel that performs lightering in the Corpus Christi area. It performs only US internal voyages. To do this work, she was required to have lightering parole as a US immigration requirement.
After completing her 12 months in international waters (including six months on another vessel which was sold, resulting in her transfer) she requested repatriation.
When this did not take place she reached out to Houston-based ITF inspector Shwe Tun Aung with a harrowing plea for help.
'I have been onboard this ship since February 20th of the present year and I have not been able to disembark because the company didn't send me home before my lightering parole was expired,' she wrote. 'Now that my lightering parole is expired, I am not being allowed to sign off and this ship and goes in and out of Corpus Christi; and it still has another year contract to continue performing lightering in this area.
'I have almost nine months onboard without any hope of being repatriated soon. I am in a very difficult situation right now with my period and I do not have any period pads to hold the bleeding, I feel very humiliated and I fear for my mental health. I have already contacted Panama Maritime Authorities, but nobody seems to be able to help me.'
When Mr Tun Aung got in touch with the company, he was shown that, because of a Covid-19 lockdown in Panama, she was unable to return home before her lightering parole expired.
However, the company contacted US Customs and Border Protection (CBP) and was informed that they would facilitate repatriation of stranded crew members with expired parole during the pandemic situation.
However, when the international airport in Panama reopened CBP disregarded its former stance and detained the seafarer aboard her vessel due to the expired lightering parole.
Her repatriation was also made more difficult to arrange due to limited flight availability and limitations imposed by the local immigration office, which did not allow the cadet to stay in a hotel and would only permit her to fly from specific airports directly to Panama.
CBP prevented the company from repatriating the cadet on five separate occasions from 28 August to 1 October.
Mr Tun Aung has attempted to get in touch with CBP to establish what is required to safely get the seafarer off the vessel. He says that as usual, he has received no response.
The cadet remains on board. The ship is chartered for a further year, calling at US ports only.
---
Tags