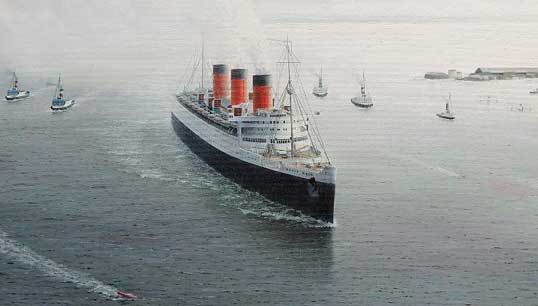 Prize winners have been announced for the prestigious Royal Society of Marine Artists and Mall Galleries marine artist exhibition which are on show at the Mall Galleries in London and online.
Bagging £2,000 for the Baltic Exchange Award goes to John Walsom for his painting of Mylor Yacht Harbour, Low Tide.
Second prize, the Artist Magazine Award, was won by Gareth Brown (RSMA) for his Sea Flora V work.
Mercantile marine was well represented in the RSMA New Generation Award, won by Gregory Smith for his illustrations of the HMS Illustrious; HMS Majestic; RMS Queen Mary's First Approach To Southampton, 1936; and RMSP Asturias. Successful artists in this category receive £250.
Jenny Morgan (RSMA) netted the Murray's Commercial Fishing Award's first prize with her painting Hauling the Trawl – Sidewinder Trawlers. This award is for a work in any medium depicting commercial fishing.
The RSMA Annual Exhibition, celebrates all aspects of the sea with themed works in a broad range of styles and media and provides a focal point for much of Britain's finest contemporary marine art.
The common theme is the sea and tidal waters although, within that remit, work is wide and varied. Subjects range from deep water shipping to coastal scenes, competitive sailing to quiet harbours, marine wildlife to still-life.
The exhibition will take place from 30 September to 10 October at the Mall Galleries, The Mall, London SW1.
---
Tags