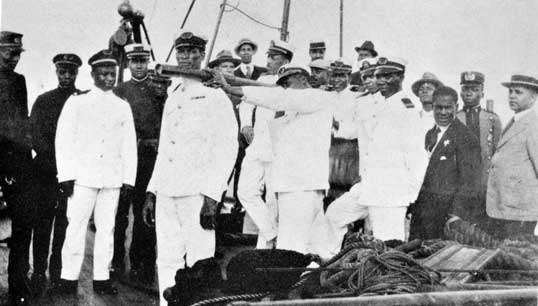 100 years after it founded, a shipping company founded by a civil rights leader to provide jobs for black seafarers continues to fascinate. Andrew Linington reports
This year marks the centenary of the sad collapse of the original Black Star Line (BSL) – an ambitious attempt to establish a shipping company collectively owned, operated, crewed and funded by people of African descent.
Founded in 1919 by the civil rights leader Marcus Garvey, with a carefully chosen name echoing the British transatlantic shipping operator White Star Line, BSL was intended to serve as an integral part of the pan-African movement to end colonial oppression and economic exploitation of black people.
The Vision
In launching the BSL, Garvey hoped it would not only provide good jobs for black seafarers and discrimination-free travel for black passengers, but also lay the foundations for a global black economy, based on fair trade to and from Africa, North and South America, the Caribbean and the rest of the world. As one of his supporters noted: 'Nations and people never rose to power without ships.'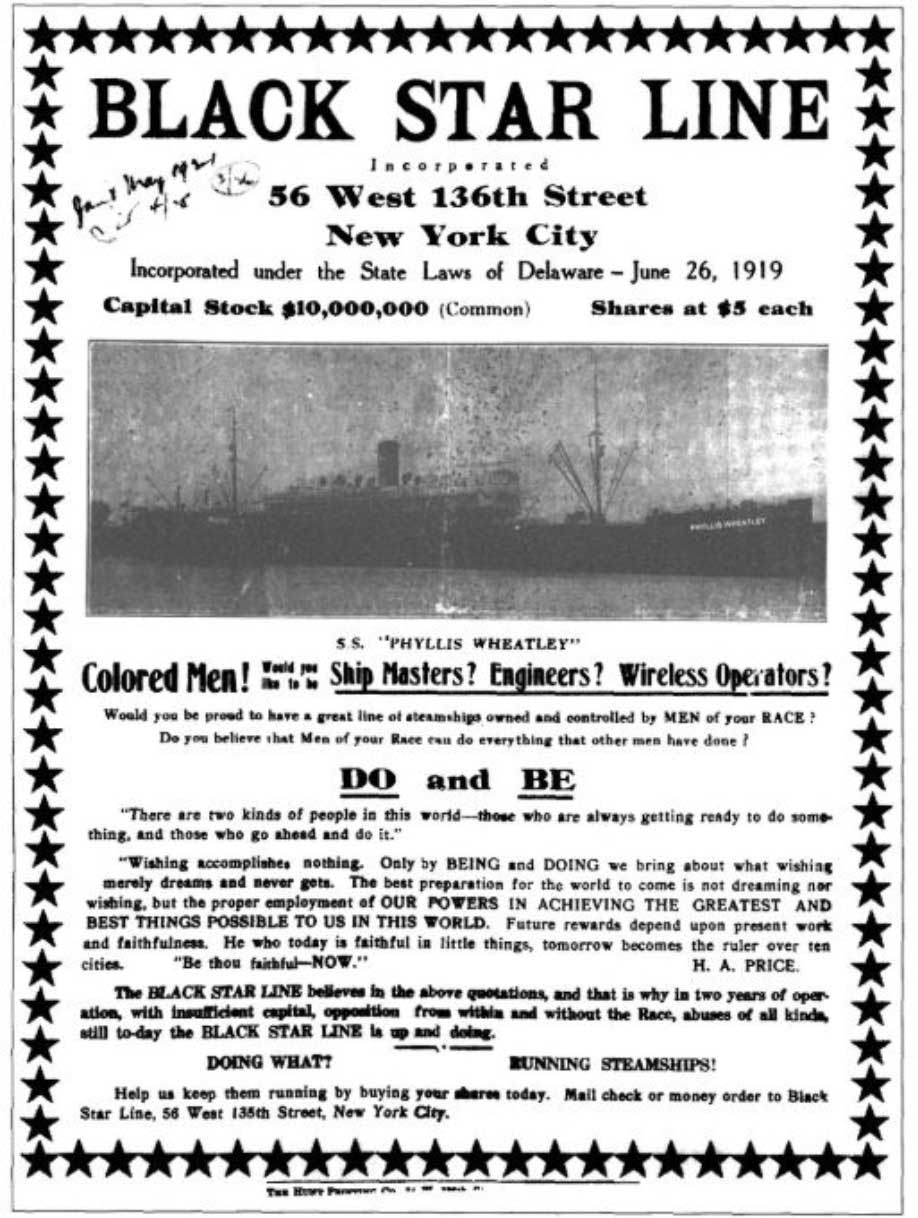 Through his leadership of the Universal Negro Improvement Association (UNIA), Garvey raised more than US$800,000 to set up and run the BSL by selling shares at $5 a time. This helped to fund the purchase of the company's first ship – the 1,452grt British-built passenger/cargoship Yarmouth – in June 1919. A crowd of UNIA supporters – estimated at 5,000-strong – came out to see the ship depart from New York on its first voyage, to Cuba, in November 1919 and the vessel was given rapturous receptions during subsequent calls to ports in Panama, Cuba, Jamaica and the Bahamas.
Racism realities
Racism and segregation in US society and its shipping industry meant that Garvey struggled to secure an all-black crew for the Yarmouth. He appointed Captain Joshua Cockburn as the ship's first master. Born in the Bahamas, Cockburn had trained and qualified in the UK and had spent some time serving with the Liverpool-based line Elder Dempster.
The second chief officer appointed to the ship was Hugh Mulzac, from St Vincent & the Grenadines, who had trained at Swansea Nautical College, gaining a mate's certificate in 1910. During the First World War he served as an officer on British and US merchant ships and he became a US citizen in 1918. He replaced one of two white officers who were blamed for problems on Yarmouth's first full BSL voyage.
However, the unfortunate reality was that the 32-year-old ship was in pretty poor condition and extensive repairs were required before it was able to depart from New York on its second BSL voyage – to Cuba, carrying a cargo of whisky just before Prohibition came into effect.
'Not only was she carrying a heavy list, but the ashes from her furnaces had been dumped under the lifeboats, the cargo was topsy-turvy, dunnage was all over the vessel, much of the gear was not in operating condition and her plates were covered with rust,' chief officer Mulzac recalled.
Voyage crew issues
Garvey – who had become concerned about the advice he had received from Capt Cockburn – had hinted to Mulzac that he wanted him to take over command of the Yarmouth, but the chief officer feared that his US master's certificate would not be valid on the UK-registered vessel and in June 1920 Cockburn was replaced by a white captain.
Mulzac resigned from BSL in 1921 and despite having gained his master's certificate in 1920, it was not until 1942 that he was able to serve as a ship master – becoming the first African-American merchant naval officer to command an integrated crew during the Second World War. He was also an active union member, helping to establish the National Maritime Union in 1937. However, his union activities resulted in him being blacklisted and unable to work again as a shipmaster after the war.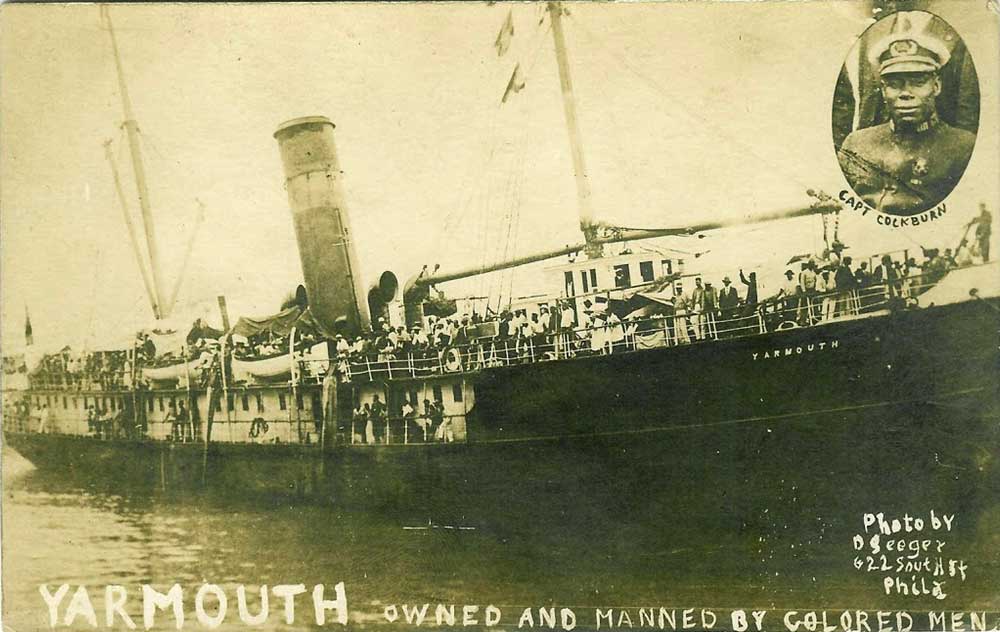 Garvey had blamed Cockburn for the losses that had mounted up during Yarmouth's first three voyages. There were also claims that the shipmaster had taken a cut of the ship's excessive purchase price and Garvey complained about the 'tricks and dishonesty' displayed by some key BSL staff.
In turn, though, Cockburn had clashed with Garvey over the Yarmouth's chartering arrangements, operating schedules and cargo choices, and had criticised the lack of maritime expertise within the company's management structure. Similar frustrations had led to Hugh Mulzac's resignation.
Flagging fleets
Problems also plagued two other vessels bought for BSL in 1920 – the 49-year-old steamboat Shady Side and the yacht Kanawha. Shady Side was laid-up following an unsuccessful season running pleasure trips and sank in the Hudson River after developing leaks in the following year.
Kanawha – which was bought to operate inter-island passenger services in the Caribbean and had been renamed Antonio Maceo – suffered a boiler explosion on its first voyage for the company, reportedly killing one crew member. Garvey replaced the vessel's white master with a black shipmaster, Captain Adrian Richardson – who went on to command a WW2 US Liberty ship. However, the yacht continued to experience costly breakdowns, which Garvey blamed on sabotage and mismanagement by the crew, and it was abandoned in Cuba in 1922 – with the seafarers having to be repatriated by the US government.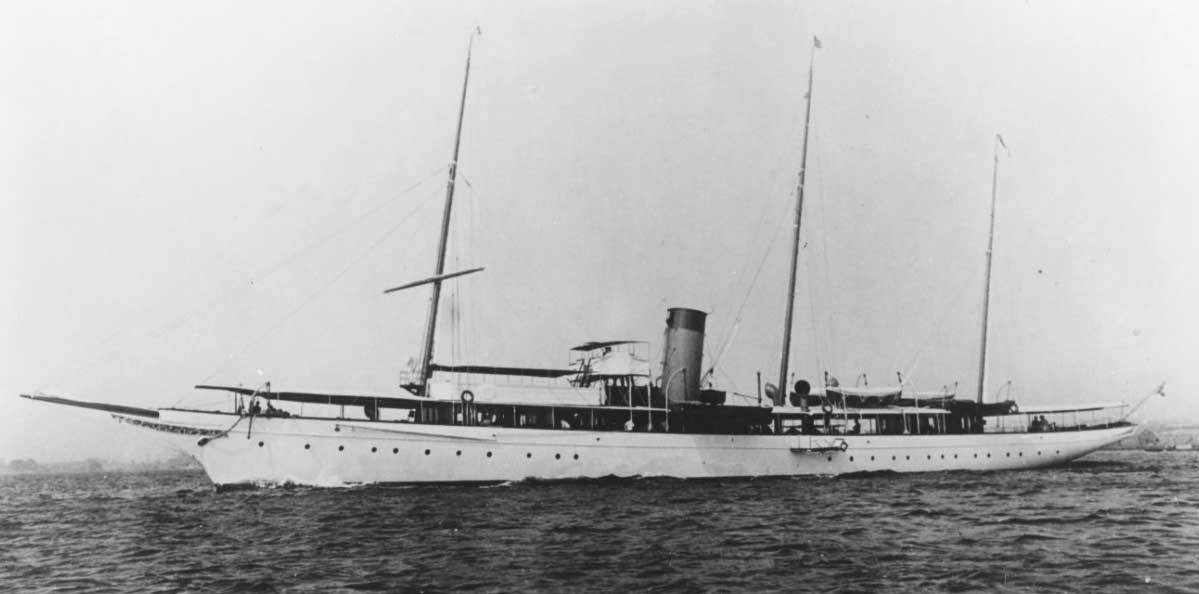 Allegations of sabotage – including claims that fuel had been deliberately contaminated to damage the engines – were linked to evidence that agents from the Bureau of Investigation (later to become the FBI) had infiltrated BSL.
Following BOI investigations, Garvey was arrested in January 1922 and charged, along with three BSL managers, with mail fraud. Prosecutors argued that the company was fraudulently selling stock through a brochure which contained a picture of a ship that BSL was seeking to buy but did not own. Garvey was convicted and sentenced to five years in prison, returning to Jamaica in 1927 after he was pardoned by President Calvin Coolidge.
BSL ceased trading in February 1922, but the story did not end there. While out on bail pending an appeal against his conviction, Garvey established a new shipping company early in 1924 – Black Cross Navigation & Trading – and appealed for funds to build a new fleet: 'We want not only one, two or three ships, but we want dozens of ships, so that every week our ships can be going out of the ports of New York, Philadelphia, Boston, Baltimore, New Orleans, Savannah or Mobile for Liberia, Sierra Leone, Gold Coast, Lagos, Abyssinia, Brazil, Argentina, Costa Rica, Guatemala, Nicaragua, Honduras, Jamaica, Barbados, Trinidad, British Guiana and British Honduras,' he stated. 'Let our ships be on the seven seas, taking our commerce to England, France, Germany, Italy, Japan, China and India.'
By early 1925, he had raised enough to buy the former Hamburg-America Line ship General GW Goethals, which was renamed Booker T. Washington. The ship made one troubled return trip between New York, Cuba and Jamaica, suffering a series of boiler problems and crew complaints of unpaid wages before it was arrested in May 1925 and sold to cover debts.
Ghana's Phoenix Black Star
Garvey's appeal failed and nothing more was heard of Black Cross Navigation, but a new Black Star Line emerged in 1957 in the newly independent West African nation of Ghana. Inspired by Garvey's vision of black-owned and operated vessels, the state-owned shipping company sought to secure a fair share of the maritime trade between Africa, Europe and other parts of the world. In 1974 it was boosted by a United Nations Conference on Trade and Development agreement under which 40% of import and export shipments were reserved for the national line.
Launched with four ships and initially operated in partnership with Israel's Zim Line, the new BSL had a fleet of 16 ships at its peak in the mid-1970s and it ran a progressive training scheme that produced several thousand deck, engine and radio officers – including the first female black shipmaster, Captain Beatrice Vormawah.
The company's ships generally carried cocoa beans, timber, coffee and other produce from Ghana to European ports such as Liverpool, returning with cargoes such as machinery, cement and cars. However, by the mid-1990s, its ageing fleet proved uneconomic and unsuitable for the West African shipping trade and it folded amidst allegations of poor management, lack of investment and corruption.
Undimmed vision
Several attempts to restart Ghana's BSL have been made since then and calls for the company to be revived continue to this day. The creation of the African Continental Free Trade Area last year represents a step towards Garvey's vision of self-determination. One hundred years after the collapse of the first Black Star Line, the original vision remains undimmed.
---
Tags