Careers
Career transitions – From bridge to bridge: how Captain Mike Nicholson moved shoreside
14 December 2020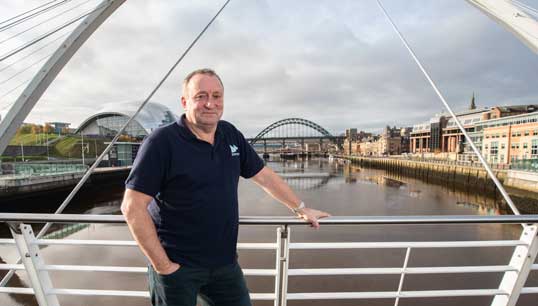 Captain Mike Nicholson went to sea because he didn't want to be a miner. After decades of service both onboard and shoreside – including plenty of activity as a union man – he has now navigated his maritime career back ashore to build his ShipMove consultancy. He talks to Deborah McPherson about his career transition.
Capt Nicholson learned the deck officer ropes on huge Shell oil tankers, and then moved to chemical tankers, where he gained his master's tickets, and got his first experience as captain at just 29 years old aboard a heavy lift ship.
Capt Nicholson's memorable journeys are as many and varied as his long career at sea. Yet his first key career change came in the early 1990s, when he took on the job of a harbour pilot.
'I always thought that was the most interesting part of the voyage, taking the ship in. I had pilot exemptions certificates for a few ports, so it seemed like an interesting thing to do. I was about 32 then; had just got married with the first child on the way, so I started applying for jobs in pilotage districts and got a job as a Humber pilot.'
Near the end of his time at sea, Capt Nicholson become a pilot and harbourmaster at the tiny Seaham harbour, about 10 miles north of Teesport.
But he was not resting on his laurels, because he arrived just as the Port Marine Safety Code was being introduced and he had to build up a suitable ship safety management system there.
The code was a bit like a version of the ISMS – ship's safety management system – and while he didn't have that much experience in in safety management systems and it was steep learning curve, it all went well because, but a year after that he got a job at a bigger port in Newcastle.
The key to the career transition is working in areas you know best – that, and loving ships Captain Mike Nicholson
In another twist of fate that seems a common thread in his career, the Friday before Capt Nicholson started, the harbour master at the Port of Tyne resigned, and he was asked to 'hold the reins' temporarily. That turned into 13 years of service.
He established his shoreside consultancy four years ago, and still does a bit of pilot work and 'driving party ships'. His story shows the various ways there are to transition your career. The key to the career transition has been working in areas he knows best – that, and loving ships.
The consultancy work evolved from his time as a Tyne and Wear harbour master and regularly helping engineers who asked to understand ship requirements when designing jetties.
When he was a harbour master at the Port of Tyne he also had some input into the controversial Gateshead Millennium bridge 10 years ago, where a set of ugly piles were eventually transformed into the 'lovely arc that opens like a winking eye, as envisaged by the designer'.
This helped him realise he could make a career as a consultant, and he has now worked on three bridge design consultancies – the Ipswich bridge, Yarmouth crossing and Lowestoft third crossing (now called the Gullwing Bridge).
More recently his long experience of simulator training and moving ships has also been put to good use in giving advice on the best ways to build bridges spanning rivers in the UK.
Being a consultant with seafaring experience means 'you can still talk with some authority about ships and shipping because you've not just been driving a desk for 25 years – and I like talking about ships. It's funny, I didn't know what I wanted to do the day I went to sea, but when I got on board ships, I knew this was it.'
---
Tags