Careers
Career transitions – staying at sea: Michael Toop found his place on a superyacht
14 December 2020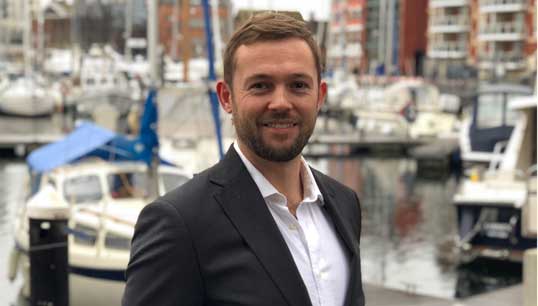 Coming ashore is not the only way to develop and enrich a career in maritime. Nautilus member Michael Toop talks to Sarah Robinson about how he has sought new challenges by switching between sectors.
Michael Toop has the smart appearance and suntan typical of superyacht crew, and it's no surprise to hear that he has spent the past year cruising the Mediterranean as a second officer on a 100m newbuild yacht. But that's a far cry from where he started out in seafaring.
'I first went to sea with the Royal Navy in 2005 at the age of 18,' he explains. 'I joined as an able seaman warfare specialist serving on Type 42 destroyers in operational areas across the world.
'I always had an adventurous streak in me and growing up in a typical town in England I had a strong desire to get away, explore the world and experience different cultures. Not having the funds to do this on my own, I thought joining the military was the way forward.'
It worked well for him at first, and he enjoyed visiting new places and learning maritime skills, but after four years he became frustrated with the 9-10 month military tours of duty and lack of freedom.
Prompted by a friend who worked on Stena Ferries as a deck officer, he started looking into a career in the Merchant Navy. 'I applied to various training companies to become a deck cadet, but due to my limited school qualifications I was rejected or ignored by all except one,' he recalls. 'Thankfully, SSTG looked past my lack of A-Levels and more at my Royal Navy background. They accepted me and placed me at Fleetwood Nautical College, with Seatruck Ferries as my sponsor company.'
To succeed on yachts you have to be highly motivated, as it is a fast paced industry with huge workloads, but the rewards and lifestyle are exceptional Nautilus member Michael Toop
Mr Toop successfully qualified as Deck Officer Unlimited, and then he came up against an all too familiar issue: the company he had trained with did not employ British officers.
'Like the majority of my peers, I found it incredibly hard to get my first job after qualifying. It took four months of endless applications until I finally got a job as a deckhand on an offshore standby vessel in the North Sea, and after the first trip this led to a promotion to Second Officer.'
Mr Toop stayed in that sector for a year, but remained disillusioned by the limited job prospects he saw in commercial shipping. 'I became determined again to find something better. Through a friend I met on an STCW course at Fleetwood, my eyes became open to a whole sector that I was not even aware of: the superyacht industry. British officers were and still are the preference. Starting wages were more than double what I was earning as a Merchant Navy officer. On top of that, the lifestyle appealed to the adventurer in me.'
Mr Toop made the career transition and broke into yachting in 2013 on the recommendation of his Fleetwood friend, joining a high-profile superyacht as a second officer in the Maldives at the beginning of a world tour.
'I didn't have to do any re-training,' he notes, 'although the work especially as a junior officer is a lot more hands-on than in the Merchant Navy, so for the first few years I spent a lot of time on deck, whereas on commercial ships you'd be more on the bridge.
'To succeed on yachts you have to be highly motivated, as it is a fast paced industry with huge workloads, but the rewards and lifestyle are exceptional.'
---
Tags