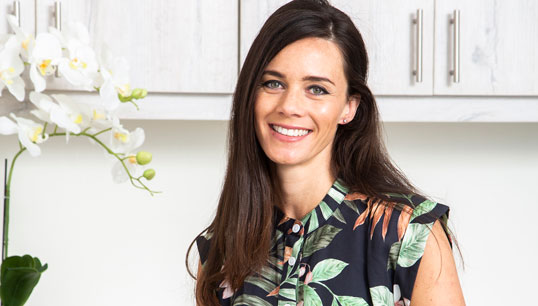 The estimated 500 to 1,000 pursers globally in the yacht industry have a champion in dedicated superyacht trainer The Yacht Purser. Deborah McPherson interviews CEO Sandra Jordaan on her efforts to create a more structured career for pursers and some of the challenges Covid has thrown up
Sandra Jordaan embarked on her yachting career in 2006 after graduating from university with an honours degree in commerce. She nearly followed in her father's footsteps as an airline pilot and made it through a rigorous selection process for cadet pilots with South African Airways, but she changed path after landing her first yacht job in Barcelona during the final cadet pilot interviews and never looked back.
After a 10-year yachting career spanning charter and explorer yachts over seven continents – and the onset of motherhood – she set up her online training company, The Yacht Purser, two years ago, aiming to help aspiring pursers, newly qualified yacht officers, chief stewards, and even masters who want to learn more about managing yacht administration and logistics.
She started the concept for The Yacht Purser when she first moved into a purser role: 'I felt very unsupported. Most people step up to purser from the interior, not that this is a necessity, but if you do, you usually move from working in a team into a solo position with no guidance or mentorship.
'There is a massive lack of structure, information, guidance and support for the purser role. No two yachts have the same job description for a purser. The role varies drastically depending on the owner, family office, if the yacht has a management company, whether it is operated commercially (for charter) or not, and where it will be cruising.'
She says both the industry and superyacht owners are starting to appreciate the need for suitably trained pursers.
A yacht purser is an administrative officer onboard a yacht generally larger than 65m long and usually has a more diverse role than a cruise ship purser. Cruise ships tend to have dedicated pursers for each function onboard such as hotel or payroll. A yacht purser must have an excellent grasp of the yachting regulatory environment and maritime law, importation and exportation procedures, immigration, human resources, as well as an understanding of accounting and procedures, destination knowledge, and be well-versed in MS Office and other yacht specific software.
While based in South Africa, The Yacht Purser training courses are all online so can be done anywhere in the world and offer an advanced level of purser qualification. The Yacht Purser is one of only three IAMI GUEST accredited yacht purser training organisations globally.
It might be an online course, but at 180 hours long Ms Jordaan says 'by the time someone has completed my course, it is as if they have had a two-month rotation onboard as a purser.'
Ms Jordaan is keen to help create a more regulated training environment for yacht pursers She has recently worked closely with the other two IAMI accredited purser training organisations to set up a new GUEST Purser Certificate that received IAMI accreditation at the end of 2020. The three organisations worked together on setting up objectives and outlines for the course accreditation.
She admits yachting is a 'really niche industry' compared to global merchant shipping, probably only 1% of vessels are yachts, and the lack of regulations means it is often left up to family offices, owners, charter brokers and management companies to specify what they want in terms of crew training.
Ms Jordaan says this is something she and her fellow IAMI accredited trainers are hoping to see changed through their work with IAMI which 'has a seat at the MCA table. ' The goal is to take this [certificate] to the MCA and other flag states and say you really need to ensure certification for pursers as it does ensure a safer vessel.'
As well as an increase in applications from pursers on cruise ships due to Covid-19's financial impact on the cruise industry and its operational pause, Ms Jordaan says she has also seen an increase in yacht deck officers, chief officers and occasionally yacht masters interested in taking purser courses to learn more about yacht administration. As a result, the Yacht Purser is currently planning with IAMI for an accredited yacht officer administrative course. 'Deck officers are not taught all of the administrative requirements for a yacht,' explains Ms Jordaan. 'For example, managing crew leave and payroll for the first time can be challenging for a master who has just stepped up. They might be supported by a management company and a payroll company but at the end of the day, they also want to know how to do it themselves.'
Covid's impact on pursers in their day-to-day job has meant increased responsibilities for crew changes which has become more difficult due to the need to quickly understand the various global travel restrictions and keep up staff morale. On the positive side, there has also been a wider awareness of what rights crew have, especially under the MLC, but conversely these are tricky to enforce in the superyacht industry, adds Ms Jordaan.
Other Covid pressures on crew included the fact that many owners decided to live aboard during the pandemic, and they expected the same standard of service daily with absolutely no down time for crew. That had to be balanced with the need for social distancing and sometimes quarantining rules for crew even with no guests on board.
'It's been very challenging for pursers who have to deal with stressed out, overworked crews, trying to implement rotational policies in the face of flight and crew change restrictions,' commented Ms Jordaan.
Predicting the future for superyacht job opportunities is tricky, with preference for candidates who are in the same region as the yacht and with negative Covid tests. 'There has been an uptick in video interviews and the need for crew to include short videos along with their job applications. Already a large number of staple annual events have been cancelled in 2021, such as the Barcelona Boat Show. Crew will be looking to see if the Cannes Film Festival and the Monaco Grand Prix go ahead for the 2021 summer season.'
Ms Jordaan hopes whatever the future holds that she can influence professionalism: 'I hope by educating pursers and senior crews in the industry about what the legalities are, and what a well-run vessel looks like, I can allow them to have a fruitful and rewarding career.'
---
Tags