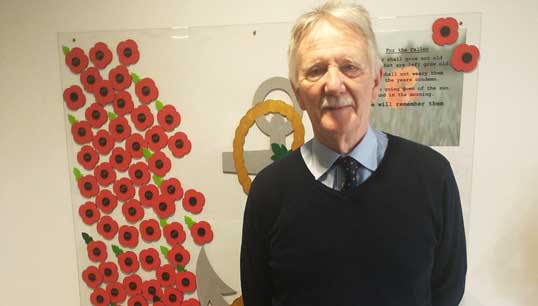 After eight and a half years as activities coordinator for retired seafarers at Mariners' Park, Roger Cliffe-Thompson says his job has developed him in ways he could not have imagined
In 2013 – at the age of 70 – he decided to come back from retirement from a long and varied career that included forestry and hairdressing to apply for the Age UK Wirral role to promote an active lifestyle for residents at Mariners' Park Estate in Wallasey, UK.
And he hasn't looked back since. 'This role has been brilliant,' says the Liverpudlian.
The Covid-19 pandemic, of course, stopped activities during lockdown restrictions. Roger admits it was a 'horrendous, turgid time'. But he says, residents 'coped much better than my other friends who are not mariners, because they've been at sea. They are very adaptable, used to being self-reliant, and good at entertaining themselves.'
That said, Roger set about creating an email group for residents to keep in touch and sent out about 360 entertaining daily newsletters, as well as making regular phone calls to residents along with a caseworker. He also helped residents compile a book of their seafaring memoirs – Tales from Mariners' Park.
Normal activities have now started up again and the socially-minded male and female residents can once again enjoy each other's company at golf, snooker, films, and other events at the Trinity House Hub.
Looking back over his 30-hour-a-week role, which has continued to be funded by The Seafarers' Charity, Roger notes the way the activities have expanded to meet needs; the many new beneficial relationships forged with relevant maritime bodies such the Merchant Navy Association; as well as hotly anticipated snooker challenge matches with the Royal Naval Association.
Residents have also collaborated on art projects, including a Covid charity record. Various artists, musicians, and writers have come to call and interview mariners, including the BBC.
While Roger's role has expanded along with the activities, he also refers needy cases to the Nautilus Welfare Fund caseworkers around the UK.
At 78, he still has no plans to retire from Park life!
'This job has been the development of me. It isn't me giving to residents. It's them giving to me – I have learnt so much from them. I've got a battered old car, but they get in it, they never moan, we go [on trips] everywhere, and they're just great.'
---
Tags