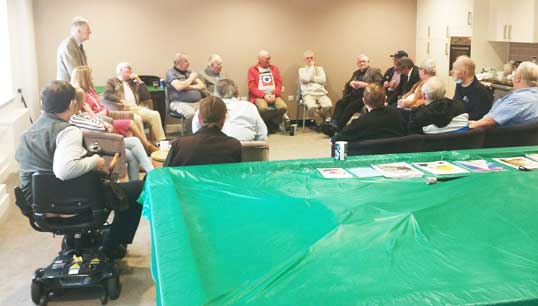 In a new community activity to foster post-Covid morale-boosting friendships among former seafarers, Nautilus Mariners' Park hosted a 'celebrating the sea' event for 'off the park' retired seafarers.
Now able to be held in person thanks to the easing of Covid restrictions, the event highlighted the effectiveness of the Nautilus Welfare Fund's Caseworker scheme and the activities coordinators at the Park.
Nautilus Merseyside community caseworker Ruth O'Brien and the Park's activities coordinator Roger Cliffe-Thompson organised the event held on 23 March to enable retired seafarers living in the Wirral to meet fellow mariner residents, possibly meet those they might have sailed with, and swap nautical tales.
The estate, run by the Nautilus Welfare Fund, contains independent accommodation, a care home and home care services, for retired seafarers and their dependants.
Ms O'Brien said as a Nautilus caseworker she regularly visits and has phone calls with non-residents across Merseyside, and many had mentioned feeling isolated due to the Covid-19 pandemic.
Ms O'Brien said they had organised the day to foster hope and confidence that gatherings can now resume post-pandemic.
'Previously they would tend to meet other seafarers locally quite regularly and that all stopped abruptly. Many of them live alone and for some those meet ups were their only chance to mix with others each week. They all expressed that they missed seeing people who have a lot in common and understood them. Often they would ask me about friends they knew at Mariners' Park who they had not been able to see at the usual meet ups.
Ms O'Brien said many people also reported struggling with worsening health conditions due to treatment delays because of the pandemic, so morale had also been low as often the people caseworkers are in contact with may have multiple physical health conditions to cope with.
If there is enough interest further such community events could be held at Mariners' Park.
---
Tags