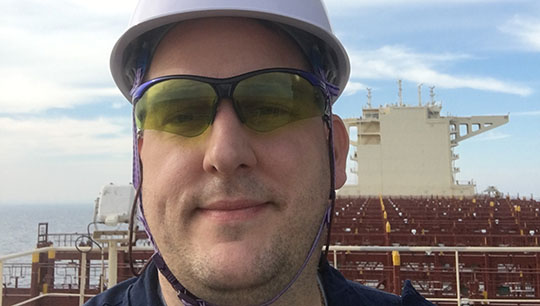 Covid measures and small class sizes mean it can be more difficult to book mandatory STCW and CoC refresher courses, but that also means a more hands-on experience, says chief engineer Tenyon Latter
What is your rank?
Chief Engineer
What type of ship/s were you on most recently?
Container ship.
Why retrain during the pandemic?
I had to do all my STCW refresher courses to keep my Certificate of Competency (CoC) valid.
What are you studying, where and why?
I had to do all the STCW refresher courses, Survival craft and rescue boats other than fast rescue boats, personal survival techniques, advanced fire fighting, fire prevention and fire fighting. I did these courses at SMT around the Glasgow area.
Is the course in person or remote?
I attended in person for all the courses except advanced fire fighting, which was done via webinar.
What do you hope to achieve through training?
Refresh my knowledge, and learn new skills. We don't, for example, during drills on the boat, inflate a liferaft and show the crew how to turn it when it's floating in the water. It is also good to try out the fire fighting equipment in a real controlled fire situation to see what can be done as the mind tends to overcompensate from what you remember.
How does the experience of retraining in a pandemic compare to previous training?
The social distancing meant that the class size was a lot smaller, and when it came to practical activities, everyone had to get involved. There wasn't the same variety of people from different vessels with small classes, which took away from diversity.
What was difficult about training in a pandemic?
Group activities proved difficult due to social distancing and maximum group sizes being smaller. The fire fighting course was all right once we had the BA sets on, but only one at a time was allowed inside a lifeboat and swimming pool, which meant it took even longer to do the activities.
Was anything easier about training in a pandemic?
Having a webinar for one of the courses was good because it meant I could stay at home for the day and spend a bit more time with the family instead of being out early in the morning and then late back in the evening with the travelling from home to the course.
What advice would you give to others looking to retrain now?
Training facilities are Covid secure. It's like stepping onto the vessel or trying to get ashore – you need hand sanitiser and face masks. Plan well ahead in advance as finding space on courses can be challenging due to size restrictions.
---
Tags