Members at work
Retired mooring master Bill Hughes on respecting the sea, fond memories of New Zealand and starting a new business
30 May 2023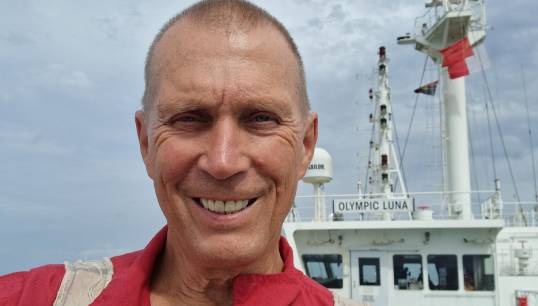 Bill Hughes, a recently retired master and Nautilus member of 52 years, started out in a career at sea thinking it would only be for a short time but ended up making it his life's work. He is now looking forward to some relaxation time, and the opportunity to start a new business
What originally attracted you to a career in maritime?
I grew up by the sea (St Margarets Bay, Dover) and spent most of my childhood on or around the water, but never actually considered a career at sea.
I was the third of four brothers. I left school at 16 with three O Levels and no opportunity available to follow my dream of becoming a vet. One of my brothers returned from several months away at sea full of tales and I was hooked. I started with the mental proviso that it would be for a few years only, that I'd not stay at sea if married and would not get married until at least 25 years old.
I got married at 23 and have been at sea or working offshore and piloting ever since! The trading ship period was from 1971 to 1995 and the offshore and piloting period from 1995 until November this year, when I officially retired from the offshore world, though have no intention of totally stopping work.
Do you have any personal or family connections to the sea?
As well as my brother, one of my uncles was in the Royal Navy and served during the Second World War – surviving that to live happily until the ripe old age of 94.
What did you do in your career and/or education before joining the maritime sector?
I worked in the stock room of F W Woolworth Company in Dover for six months for the princely sum of £8 per week, prior to starting the ONC Nautical Studies at Warsash in January 1971.
What does your current/most recent job involve?
Most recent position (until 10 November 2022) was as mooring master, berthing VLCC and Suez Max to West Africa.
Tell us some of your career highlights.
Promotion to second mate on the Starman America in the mid-1970s; promotion to chief officer in the late 1970s. Survival of a near drowning incident in the South Atlantic. Also, visiting Ascension Island, St Helena Island, Tristan da Cunha, the Falklands and South Georgia – including a troop transport voyage between the last two. Another highlight was being an expert witness for a large court case in Australia, involving offshore operations.
What have been some of your biggest career challenges?
The transition through the ranks and briefly taking command, then swiftly moving to offshore work and even more swiftly taking over as pilot / mooring master berthing VLCCs to FPSOs in tandem, after only three training operations!
Who has helped you the most in your career?
When I was a cadet with Blue Star Line, Robin Aiken (chief officer, America Star or Timaru Star), showed great interest in the cadets and their personal and professional development onboard and a very positive influence all round.
More recently, my wife of 19 years – long suffering yet totally supportive of each and every move; frequently stepping into the uncertainty and the unknown with my shift from trading vessels to offshore projects and contract work.
What one change that would make the biggest positive difference to your job?
Better understanding by shore personnel of what is required of people working away from home on long voyages or offshore these days, linked with better communications
What are your plans for the future?
I have officially retired from the offshore and marine life… at least for now! Current intentions are to take a few months of relaxation time, then start a new business with my wife as land, sea and air photographers. SkyWaterDrone will provide a range of aerial drone, land, and inspection class ROV subsea services.
What do you like doing in your free time?
Open air activities – drone flying, walking and cycling in the mountains (we live in the south of France), road cycling, motor biking, travel and photography – my wife and I share very similar interests though with different, yet complementary skill sets.
What is your favourite place you have visited during your career?
New Zealand – fond memories of my first trip to sea – MV English Star, Tilbury Docks to Auckland New Zealand via Panama in ballast, followed by several weeks on the New Zealand coast – what lovely people and what a beautiful and hospitable country. Revisited several times during my seagoing career.
Tell us one thing that people may not know about you.
My Christian faith – I was re-introduced by a radio operator in the mid-1970s. Over the years, I have also developed a huge respect for the sea and the power of nature! As was noted by someone wiser than me: if you choose to battle nature in any or all its forms, you will always come a very poor second place!
---
Tags