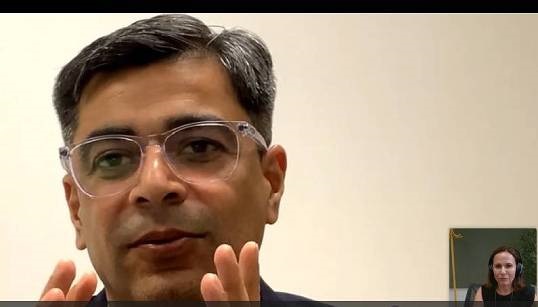 For former master Sundeep Khera, now a senior maritime professional working for a major marine insurer, crucial tips kept in his 'back pocket notebook' from cadet to master were an important part of his successful career trajectory from sea to shore.
Capt Khera is now global chief underwriting officer, Marine Hull, and head of Marine, UK & Lloyd's, at AXA XL. In the latest webinar for the Sea to City series, held on Tuesday 11 July 2023, he explained how he made the leap from cadet to master to his current senior position ashore.
Starting as a cadet in 1993, it took 12 years to get his first command: 'It was not easy journey, especially as a cadet in training you get all sorts of jobs, and each was challenging but each of those jobs taught me something on my way up and my way up to becoming a captain,' he said.
Capt Khera described the importance of paying attention to personal health and wellbeing, getting rest time, but also the importance of continuous learning. In his case, from his cadetship on he wrote down what he learned in a 'back pocket notebook', which he relied on throughout his career.
It was 'like an encyclopaedia and is something I carried with me throughout,' he said.
He also made sure he sailed on a range of vessels to broaden his experience.
'I didn't want to be stuck on one type of vessel, so I asked my shipping company for a variety of vessels, and that is important when going ashore. All this experience counts if you take a job ashore.'
His advice for seafarers facing more barriers is: 'When you change ships don't hesitate to go down a rank to get experience. As you get more senior you have less time to get more learning. It is also worth trying to encourage those discussions with your shipping company or manager.'
Capt Khera's decision to move ashore was for family reasons, and he said it is not necessarily a more profitable venture at first. His first job ashore was in container storage management, so having an open attitude towards learning new skills and not being afraid to start from scratch is also key. He studied to upgrade his skills, and while doing that he was headhunted to work in marine . 10 years on he has made the remarkable leap to his current senior position.
'Each person needs to create their own package for career development. And to ensure they have office-based skills is just as important as other transferrable skills,' he said. 'It is also important to realise you don't always need 100% of all the skills in a job description, but maybe 60-80%.'
The Sea to City programme is a mentoring initiative run in partnership with Maritime London and Mersey Maritime, and is open to all full members.
---
Tags