Branch conferences
23 November 2022 10:00 - 17:00
UK Branch Conference 2022
Venue: Great Eastern Hall, SS Great Britain Bristol, UK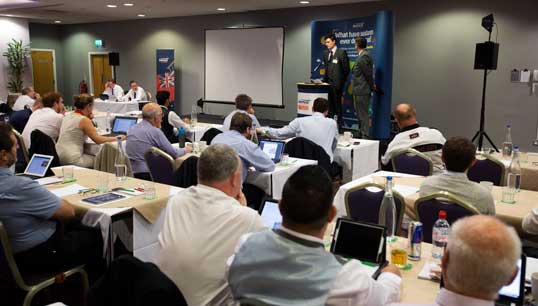 Formal Notice for the 9th UK Branch Conference
Date: Wednesday 23 November 2022
Time: 10:00-17:00
Location: SS Great Britain, Great Eastern Hall, Bristol, UK
Registration for in person delegates ended on Thursday 20th October 2022


Venue
The venue for the ninth Nautilus UK Branch Conference is the Great Eastern Hall of SS Great Britain, in Bristol's Great Western Dockyard.
The conference is open to all full members of Nautilus based in the UK. The meeting takes place on Wednesday 23 November 2022 from 10.00hrs, with a symposium planned from 14.30 to 17.00.
An evening meal and awards presentation will take place from 18:30 onwards in the First-Class Dining Lounge. Attendees of the conference and symposium are welcome to come along and celebrate a return to conferencing.
The evening will also include the presentation of various Nautilus accolades from previous years that could not be awarded in person owing to Covid-related restrictions.
The meeting will receive the UK Branch Conference Report, and attendees will debate and vote on any motions submitted.
Delegate resources
Members attending UK Branch Conference 2022 can login to a dedicated UK Branch Conference section in My Nautilus for documents such as the UK Branch Conference 2022 report and the Conference guide, including a schedule and standing orders.
Motions
Members wishing to move motions at the meeting needed to submit them in writing, signed by at least four full members whose subscriptions were up to date, to reach head office by no later than 17.00 hrs on Monday 24 October 2022. A motion proposal form was available at the Membership resources Forms section by logging in to My Nautilus.
Note: Registration for in person delegates ended on

Thursday 20th October 2022 at 1700 UK time

.
Note: The EDF and the Lay Reps forums are both being held the day before, on 22 November 2022, at Mercure Holland House Hotel, Bristol. UK-based members attending those forums are welcome to stay and attend the UK Branch Conference.
Registration to attend the Equality and Diversity Forum (EDF) as well as attendance at other forthcoming Nautilus meetings and events, could be completed by registering for UK Branch Conference. Online attendance registration ended on 18 November.
Any member with questions should please email:conference@nautilusint.org