United Kingdom
Alicat work boats wins multi-million newbuild contract from North Star renewables
8 October 2021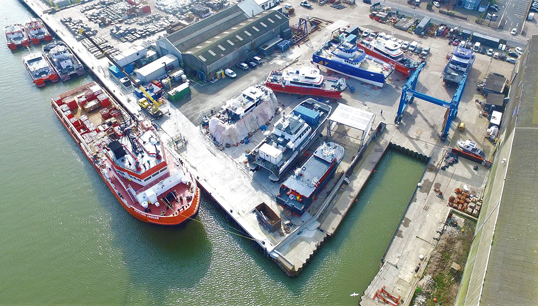 Great Yarmouth-based marine engineering company Alicat has been selected by North Star Renewables to build the first two support vessels to work on offshore wind turbines at Dogger Bank Wind Farm.
The specialist in low carbon emitting vessels beat several UK shipyards to the deal.
North Star Renewables chief operating officer and Boston Putford MD, Robert Catchpole said: 'We are very excited to announce Alicat as the chosen shipbuilder for our first next generation new breed of sustainable reliable daughter craft fleet specialist for the renewable sector. We are very fortunate to have talented companies, like Alicat, on our doorstep in East Anglia.'
Alicat director Simon Coote said: 'This multi-million-pound contract is a significant win for our business as it further establishes us on the renewable map as the first company in the world to build hybrid powered daughter craft to be built in the UK, and our testing and knowledge of the new breed of outboard propulsion packages has a significant role to play in the build of these innovative vessels.
'This is a great achievement for all parties involved as well as for the local boatbuilding industry and will support ongoing employment and open further opportunities for local employment and apprenticeships.'
Daughter craft are used by the offshore wind industry to safely transfer technicians between the in-field service operation vessel (SOV), where they live while working offshore, to the wind turbines to undertake routine or remedial maintenance. They are also used to support trips to shore and making deliveries in-field.
Daughter craft also provide essential emergency safety and rescue cover.
Aberdeen headquartered North Star Renewables developed the new fleet design in collaboration with Southampton based naval architects Chartwell Marine.
North Star has 63 daughter craft within the existing fleet crewed and maintained by the two rescued boat divisions, one of which is based in Lowestoft, Suffolk.
Dogger Bank Wind Farm is a group of offshore wind farms under construction 78-180 miles off the east coast of Yorkshire in the North Sea.
---
Tags