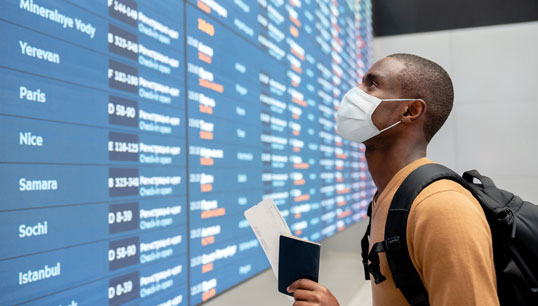 Nautilus is asking seafarers who are flying to and from their vessels to be aware that some airlines are applying more stringent requirements for passengers around the wearing of face masks.
Guidelines for the use of personal protective equipment (PPE) were set earlier in the Covid-19 pandemic by the International Air Transport Association (IATA), but airlines are also applying different national rules on face masks. This means seafarers should check that the face coverings they bring for their flight meet local requirements.
In its Health Safety Standards Checklist for Airline Operators, IATA asks airlines to ensure that medical-standard or non-medical masks are worn by staff during flights according to need and availability.
Airlines should advise passengers that face masks (or equivalents designated by local authorities) are to be worn while in airport terminals and during flights. They should also tell passengers to ensure they have enough masks to last for the duration of their journey, since most masks will only give protection for four hours.
IATA recommends that those who do not adhere to preventative measures, including the wearing of masks, are refused access to the airport terminal building or the aircraft cabin, and should be removed if an incident takes place before take-off.
---
Tags