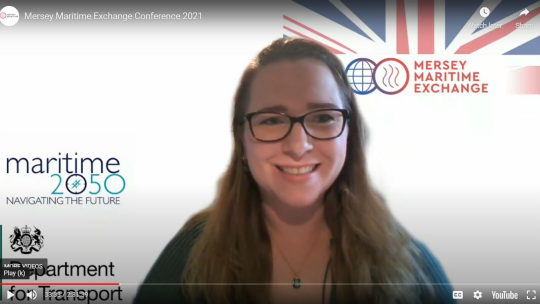 The Union's Build Back Fairer campaign received DfT support on Day of the Seafarer 2021 with Department for Transport (DfT) official Laura Marquis reflecting on the plight of seafarers during the pandemic.
The deputy director for maritime operations at the DfT told the Mersey Maritime Exchange conference it was almost inconceivable when the Maritime 2050 strategy to grow the sector was created three years ago that the United Nations would announce a humanitarian crisis during a global pandemic.
'The very nature of Maritime 2050 was to create a framework to guide us, but not restrict our ability to react to changing circumstances, to ensure that we do build back better, and do build back fairer, to play our collective part in promoting and protecting seafarer welfare, with even greater urgency,' she said.
'We're working hard in government to ensure that our words, such as being the first country to declare seafarers as key workers, are also matched with action.'
Ms Marquis reiterated the Maritime 2050 ambition to grow the maritime workforce, transform its diversity, and enhance its reputation as a world leader in the provision of maritime education and training.
She said that the recent Maritime Skills Commission (MSC) report into cadet training was a good framework to achieve those ambitions, with 23 recommendations across government and industry, including how cadet training will continue to transform and how seafarer education and training will become equated with that of the university system. Many of those recommendations were formed through consultation with Nautilus members, who took part in a survey and spoke with the MSC working group directly about their recent experience of cadet training.
To watch the Mersey Maritime Exchange visit the conference website
---
Tags