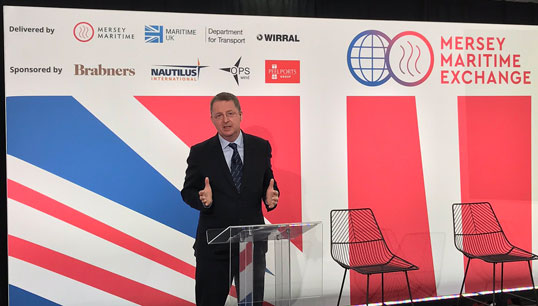 Nautilus general secretary Mark Dickinson raised the Union's Build Back Fairer campaign at a high-profile event held in Merseyside on 25 June for International Day of the Seafarer.
The remarks were made during a keynote speech at the Mersey Maritime Exchange, a hybrid conference held with some participants in Birkenhead and others online. It explored the Maritime 2050 strategy and its key themes, including people, innovation, environment, competitiveness and regional growth.
During his address, Mr Dickinson called on attendees to recognise that the invaluable contribution made by seafarers during the pandemic 'came at a huge personal cost'.
He argued that 'measures introduced to prevent the disease spreading failed to appreciate the crucial role that the shipping industry and our seafarers play in the global economy'.
Reflecting that 'fair future for seafarers' was the theme set by the International Maritime Organization (IMO) for this year's Day of the Seafarer, he outlined the steps that the Union is calling on the UK government and industry to take as part of its Build Back Fairer campaign.
While welcoming the UK's action on designating seafarers as key workers, Mr Dickinson expressed his disappointment that 'just 58 states have so far informed the IMO that they have designated seafarers as key workers'.
He also argued that 'even in those states who granted the key worker status – frankly, this sometimes happened in name only', and called for an agreement to be reached on the rights that key worker status should guarantee for seafarers in future.
Moving on to discuss the Maritime 2050 strategy, he referenced the 'medium-term' aim to 'work with the IMO and ILO to address a range of issues including fatigue, seafarer welfare and modern slavery'. Mr Dickinson argued that these problems represent a 'ticking time bomb' for the industry and called on the UK government to accelerate this process, and to make progress on these vital issues a short-term priority.
Turning to the governance of the industry, he raised the commitment of the UK government to supporting the UK Ship Register set out in Maritime 2050, which describes the UK flag as a 'byword for quality'. He said: 'If the aspiration to attract more ships to the UK flag and more shipping companies to the UK is to be met, the government must lead the charge internationally to restore confidence in the ship registration system.
'Flags of convenience have long been an accepted reality in the industry. But when the pandemic hit, the utter inability of some flags to fulfil their obligations to seafarers on their vessels under international law was brutally exposed.'
He then raised the net-zero maritime sector envisaged in Maritime 2050, arguing that the process must be 'fair and just'.
---
Tags