Health and safety
Calls for improved safety guidance after low sulphur fuel led to cargoship engine failure
7 February 2022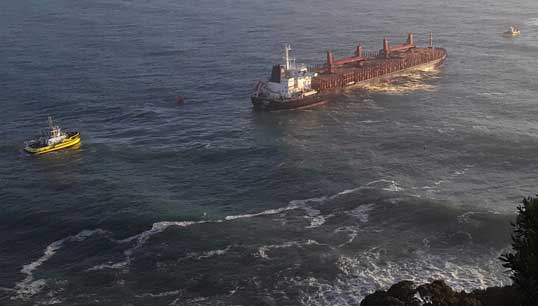 Fresh concerns over the support given to seafarers coping with the introduction of low-sulphur fuels has been raised in a report on a bulk carrier, which lost power and began drifting as it left a port in high winds.
The 39,784dwt Funing was towed to safety after it drifted out of a channel shortly after leaving the New Zealand port of Tauranga in July 2020, its rudder and propeller became entangled in a buoy mooring chain and its main engine automatically shut down on overload.
The China Navigation Company ship, which was carrying a cargo of logs, had departed in conditions that were at the 'upper end of the allowable limits' – with wind speeds gusting up to 45 knots and an ebbing tidal stream of 3.5 knots.
A Transport Accident Investigation Commission (TAIC) report on the incident concludes that the Singapore-flagged ship had been unable to generate full power because a fuel injector control unit (ICU) had suffered fuel leakage and become clogged with coking debris from the use of low-viscosity low-sulphur fuel.
The report notes that the introduction of the International Maritime Organization's low-sulphur fuel cap in January 2020 'brought significant uncertainty on how the new fuels would affect engine performance, maintenance and longevity'.
Investigators had found that engine maker Wärtsilä had produced several guidance notes on the potential effects of using low-sulphur fuels, monitoring fuel leakage, analysing engine monitoring software, and upgrading ICU parts.
However, the information is located in various documents and is not always available to, or fully understood by, end-users.
There was no single, comprehensive document available to the Funing's engineers to address the effects of low-sulphur fuel on ICU maintenance, the report points out.
'The guidance that had been provided by Wärtsilä to the vessel manager had not been fully integrated with the vessel's safety management and planned maintenance systems,' it adds.
'Equipment manufacturers' instructions and guidance documents can be safety critical. Those responsible for producing safety management system documents should ensure that, after their publication, such documents and information are made readily available and as easy as practicable to assimilate into safety management systems by those responsible for the maintenance of such equipment.'
Investigators also found that 'ineffective communication' between the master and chief engineer meant that the bridge team – including the pilot – were not fully aware that the main engine had been malfunctioning before the ship left its berth. The master had missed an opportunity to discover the nature of the problem when he failed to question the chief engineer about a request to cancel the automatic slowdown.
The report notes that the port of Tauranga has tightened its safety management procedures in response to the incident and that vessel manager Thome Ship Management has taken steps to ensure that all safety-critical information is exchanged between masters and chief engineers.
TAIC recommends that Wärtsilä should 'take further steps to help ensure users of its RT-Flex engines are fully aware of all the effects of the IMO sulphur cap and its operational effects on ICU performance, maintenance and lifetime service'.
---
Tags