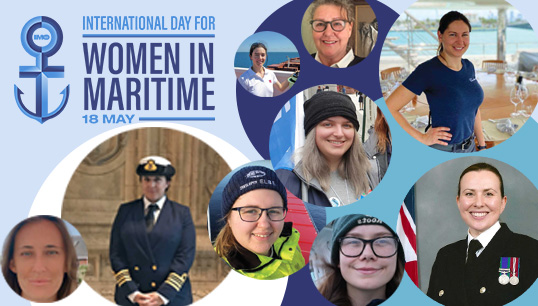 Nautilus is encouraging members to support the International Maritime Organization's (IMO) first International Day for Women in Maritime on 18 May, which will become an annual celebration of the talents and skills of female maritime professionals.
A couple of online events will kick off the new observance day.
The IMO is hosting a global online symposium with the theme Training-Visibility-Recognition: Supporting a barrier-free working environment.
In the UK, the day is also being supported by Maritime UK which is launching a series of trans-pacific webinars with Women in Maritime Australia. The first of the Global women in maritime series on 18 May focuses on how to be an ally.
The United Nations maritime agency's event will highlight the need for women to be more visible and mainstreamed in the maritime community – onboard ships and throughout the whole sector – and more widely in represented at decision-making levels. The symposium will also address skills development for women in the maritime sector.
For the inaugural International Women in Maritime day, IMO would like to see the many faces of women in maritime. Nautilus will be offering female members the chance to 'take over' two of its social media platforms for the day.
On social media, IMO and Nautilus are inviting women in maritime to share images of themselves in their working environments. The hashtag for the day on social media is: #WomenInMaritimeDay.
The IMO International Day for Women in Maritime will be observed on 18 May every year and was adopted by the IMO in 2021 as part of its commitment to the United Nations Sustainable Development Goals on gender equality. The aim is to promote the recruitment, retention, and sustained employment of women in the maritime sector, raise the profile of women in maritime, and support work to address the current gender imbalance in maritime.
---
Tags