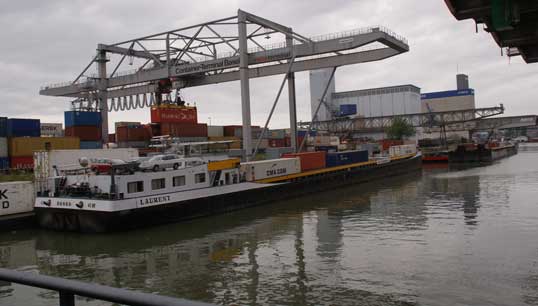 Residents in Basel will vote in a referendum on 29 November on whether a new port known as 'Basin 3' should be built in their city.
Known as Gateway Basel Nord, it is being touted as a 'gateway port' for inland, rail, and other transport freight.
Nautilus national organiser in Switzerland Holger Schatz said the Union is demanding binding compliance with social standards by all companies involved in the redevelopment – whether in shipping, road transport, port transhipment or rail.
Creating and securing good working conditions in the port, was key said Mr Schatz. 'As a Union of inland and sea shipping workers, which is also in close contact with port workers, we are observing current developments in the port with great concern and are sceptical about the plans that have become known so far.'
The new port project will include an ambitious housing development although it was not expected to be affordable housing, said Mr Schatz.
Numerous studies have forecast a boom in inland navigation as it becomes recognised as an ecologically and economically highly effective mode of transport in the coming decades. As a result, container handling fees are expected to triple in Basel.
The Union argues the following aspects must also be considered for the welfare of nautical workers:
sufficiently wide import and export corridors for safe navigation
sufficiently quiet berths for rest periods with electricity
access to social infrastructure in the port (snacks, cafes)
free internet access in the port area
rights to operate the publicly funded Container Terminal North should only be granted to companies that recognise the social partnership, but which are 'neutral'.
---
Tags