United Kingdom
Covid vaccines supplied to BAS Antarctica research station in logistical feat
14 October 2021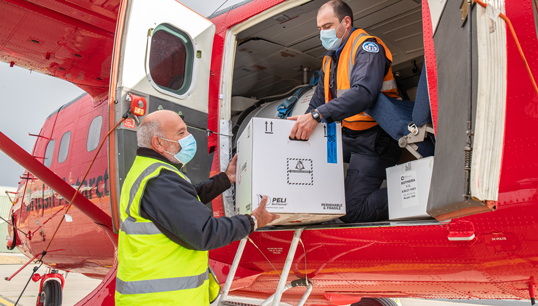 British Antarctic Survey (BAS)'s Rothera Research Station in Antarctica has received a consignment of AstraZeneca vaccines – the furthest south any British Covid-19 vaccine has yet travelled.
The enormous logistical feat – which involved ensuring the vaccines were kept at the required 2-8 degrees Celsius temperatures – was arranged by the not-for-profit international development organisation, Crown Agents, and the Ministry of Defence (MoD) as part of the UK Foreign Commonwealth and Development Office's (FCDO) commitment to supply vaccines to all the inhabited UK Overseas Territories.
The British Antarctic Territory is the last UK Overseas Territory to be supplied with a Covid-19 vaccine. The FCDO have overseen the mission to supply the British Overseas Territories with vaccines, as well as delivered donated vaccines to countries across the globe, now reaching every continent on the planet.
Remarking on the vaccine journey of almost 10,000 miles over four continents, Crown Agents' chief executive officer, Fergus Drake, said: 'Since March last year we have worked with the FCDO to ship medical items to literally the ends of the earth to support the UK Overseas Territories during the pandemic. From Pitcairn Island to Tristan Da Cunha, our teams have overcome extreme logistical challenges to deliver medical equipment – and supporting the safe arrival of vaccines all the way to Antarctica has certainly been a highlight.'
BAS, where Nautilus has members, also operates the UK's new polar research vessel RRS Sir David Attenborough, commissioned by the Natural Environment Research Council (NERC) - part of UK Research and Innovation. The state-of-the-art ship is expected to visit London Greenwich from 28-30 October 2021, as part of the three-day free Ice Worlds exhibition hosted by Royal Museums Greenwich. The visit, taking place on the eve of UN climate change conference COP26 in Glasgow, will showcase how the vessel will enable world-leading research in Antarctica and the Arctic for the next 25-30 years, as well as what it is like for crew and scientists to work in polar regions.
---
Tags