Nautilus news
End of an era as Nautilus colleague retires after nearly five decades in post
2 June 2021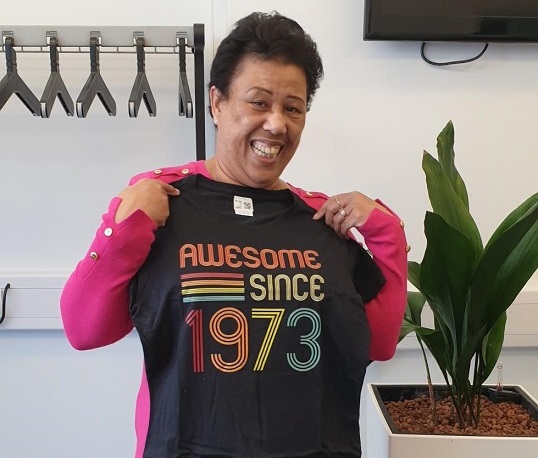 Nautilus International bid a fond farewell to membership finance supervisor Josephine Jaw, who retired on 28 May 2021 after an astonishing 48 years with the Union.
Josie started at the Nautilus predecessor union MNAOA in central London in November 1973. She was just 17 years old but had already gained some work experience after leaving school in Stepney at 15.
'I heard about the job vacancy at the MNAOA because my sister was already working there,' she recalls. 'I was working at a place in Aldgate just across the road from the MNAOA, and I used to meet my sister and her colleagues for lunch and go shopping with them nearby at Petticoat Lane. They were really nice people, so I was pleased to get the job there as records clerk.'
Back in those days, the Union had an eight-strong membership team grappling with sheaves of paper records – 'We didn't even have electric typewriters!'. But as the decades passed, Josie witnessed many changes to the ways she and her colleagues worked, with computers first being introduced in just one specialist IT room and eventually to each employee's desk.
'I wanted to learn how to use a computer before we had them at work, so I took myself off to night school to learn,' she says. Having left school with no qualifications, she was keen to better herself as an adult, and she is also proud of having achieved a Level 3 NVQ in customer services which was sponsored by the Union in the 1990s.
By then, Josie's employer was no longer known as the MNAOA, because that union had merged with two others (REOU and MMSA) in 1985 to form NUMAST – moving to a new building in Leytonstone, East London. And of course, Josie also witnessed the change to Nautilus UK and Nautilus International in the 2000s, but says that the core values of the Union and the friendliness of her colleagues always stayed the same. 'This place is like family to me. I've made lifelong friends and stayed in touch with so many colleagues after they've moved on.'
So why exactly did Josie herself never move on? 'Better the devil you know,' she laughs. In fact, she did consider leaving when her sister moved to another company, and has had some other offers over the years, but as well as valuing the warmth of her colleagues, she appreciates the opportunities the Union has given her to learn new skills and rise through the ranks.
Now is the time to step back and enjoy her well-earned retirement, and although Josie will miss her job, she will be glad not to set her alarm clock each day and wait in the cold for a bus. With pandemic restrictions easing, she hopes it won't be too long before she can realise a long-held dream to travel to Hawaii, Los Angeles and New York with her nieces, and as a superfan of the band UB40 since the early 1980s, she's planning to get some concert tickets as soon as they are available again.
Nautilus general secretary Mark Dickinson gave Josie cards and gifts on behalf of staff at her leaving presentation. He paid tribute to her nearly five decades of dedicated service, saying: 'Josie is the longest serving member of our staff, having worked for the MNAOA from 1973. She has seen so much change in the Union over that time, served under five general secretaries and moved office twice – from The City to Leytonstone to South Woodford. She witnessed containerisation impact the industry and our membership, and saw new technology revolutionise her work. She took it all her stride. She will be sadly missed but she is forever a part of the Nautilus family. We all wish her the very best in retirement.'
---
Tags