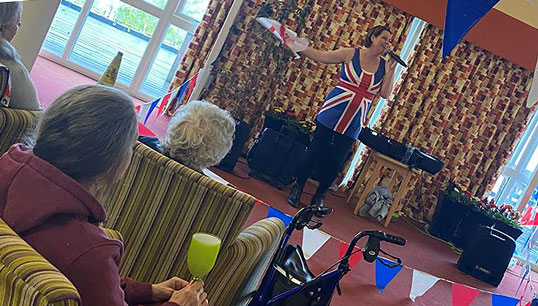 Nautilus Mariners' Park Care Home residents held a special commemoration for VE Day 2021 in honour of Merchant Navy veterans, during easing pandemic restrictions.
The sing-along kept to strict social distancing and masking restrictions, and was the second since Covid-19 restrictions started to ease. Other face to face events have also started again at the park including outdoor bowls, golf and snooker.
The sing-along, held to mark the 76th anniversary of Victory in Europe Day, was led by Sandra Currie.
VE Day on 8 May 1945 marked the end of the Second World War in Europe, although the war would continue in the Pacific theatre of operations.
The estate, run by the Nautilus Welfare Fund charity, will be following UK government guidelines on further easing of restrictions for England from 17 May, which means 'nearly back to normal' said welfare manager Mick Howarth in a resident briefing letter.
'It has been a long haul, but we are now in a far better place, thank goodness. It's still not completely "back to normal" as face coverings and social distancing and hand hygiene remain important, so please do continue to follow these rules whilst you are out and about.'
---
Tags