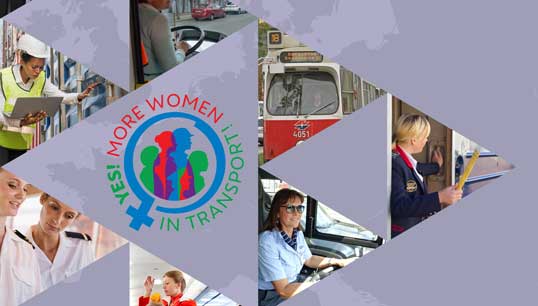 Women seafarers have flagged some of their challenges in dealing with harassment in the workplace in a survey by the European Transport Workers' Federation (ETF).
'When we are alone as women on a ship with only men, they are not nice. They think they can say and do anything,' said one of the 95 maritime female respondents in the survey of nearly 3,000 workers across all transport sectors in 41 countries, including maritime.
Almost 40 per cent of the total female transport worker respondents were unaware, however, of any procedures for dealing with harassment and violence in their workplace.
The ETF survey shapes a new 'Yes to Women in Transport' campaign to make transport fit for women to work in the male dominated sector where women comprise just 22% of the workforce.
It reveals that five key barriers exist, which deter women from joining and impact retention. These include a 'toxic' culture and gender stereotypes; discrimination; lack of work-life balance; deficiencies in provision for women's health and safety at work including access to decent sanitary facilities; and high levels of violence and harassment against women at the workplace.
Competing realities also exist. On the one hand, the sector offers interesting long-term employment as 82% of respondents indicated that they enjoyed their workplace, but on the other nearly one-third did not feel that the workplace environment supported them, and half said that the job did not provide them with good opportunities for promotion and development.
Coming from a minority cultural or ethnic background was likely to cause problems at work according to 37%. Part-time work was also identified as a 'trap' for women that significantly affects their pay and future pensions, and maternity leave or sick leave for parents carries unforeseen penalties in the workplace.
To increase awareness concerning violence and harassment against women transport workers, and to help social partners develop effective workplace policies for eliminating inequality, the ETF will publish guidance on 25 November 2020 – the International Day for the Elimination of Violence Against Women and launch 16 days of activism against gender-based violence.
---
Tags