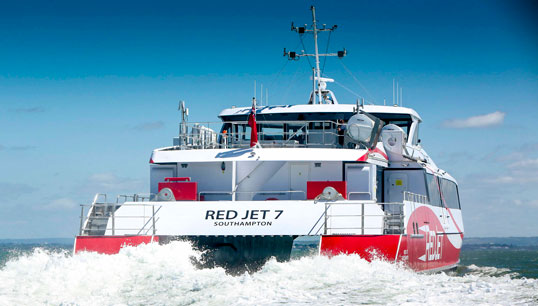 Isle of Wight ferry operator Red Funnel is the latest UK passenger service to announce job losses, with up to 50 roles to be cut across its head office, support and operational functions.
Up to 120 Red Funnel employees will be placed at risk of redundancy with 12 new roles under consideration. No detail on those new jobs were provided by the company. Voluntary redundancies will be offered to all employees affected, ahead of compulsory redundancies.
The move follows a prolonged downturn in passenger and vehicle crossings over the peak summer period as a result of the Covid-19 pandemic.
Nautilus strategic organiser Martyn Gray expressed 'deep disappointment' at the decision.
'The Union will seek to mitigate the loss of highly skilled and experienced crew members wherever possible,' he said.
Red Funnel chief executive Fran Collins said: 'This is a situation we have tried very hard to avoid, but we are committed to serving the Isle of Wight as we support our colleagues through this very difficult time.
'The process will not affect our published timetables or frequency of service,' she said.
On 1 August Red Funnel resumed its usual hourly service on conventional ro-pax routes ending the temporary adjustments and suspensions to rostering which were introduced in April. Reductions to service have remained in place for their Fast Craft operations
The company took part in the Coronavirus Job Retention Scheme, which paid 80 per cent of furloughed staff's salary, uncapped. Furlough leave will not be used as part of the redundancy selection criteria, it said.
Red Funnel will consult with trade unions Nautilus and Unite on the general process to be followed, the redundancy proposals, and any alternative measures that could be considered to avoid or minimise the redundancy proposals.
Red Funnel employees who are selected for redundancy will be given written notice of the termination. Members who receive this notice should contact the Union for assistance: industrial@nautilusint.org.
---
Tags