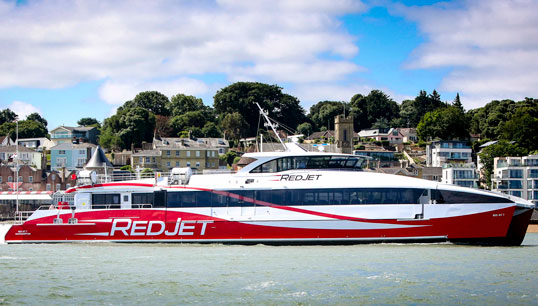 Isle of Wight ferry operator Red Funnel resumed its usual hourly service on Saturday 1 August, ending the temporary adjustments and suspensions to rostering which were introduced in April due to the coronavirus pandemic.
Erring on the side of caution, Red Funnel said: that 'Whilst services are gradually being turned back on and we have seen the introduction of a three-boat service, it is important to highlight that we must still proceed with caution because we are not out of the woods yet.
'The restricted capacity onboard the vessels and the loss of revenue during April, May and June has significantly impacted on the business performance. We continue to monitor and track passenger numbers daily, coupled with government guidance, which will determine the pace at which we progress through our recovery programme.'
Nautilus strategic organiser Martyn Gray thanked 'all maritime professionals at Red Funnel for their hard work and dedication across these challenging times and for their understanding in being flexible and adaptable to emerging circumstances.'
In April, Red Funnel wrote to its employees asking them to take part in the Coronavirus Job Retention Scheme, which undertook to pay 80 per cent of the usual salary, uncapped, while staff were furloughed.
The company also reviewed its operations on a day-to-day basis, to ensure its future viability and sustainability. This involved coordinating with other operators as well as local and national authorities.
---
Tags