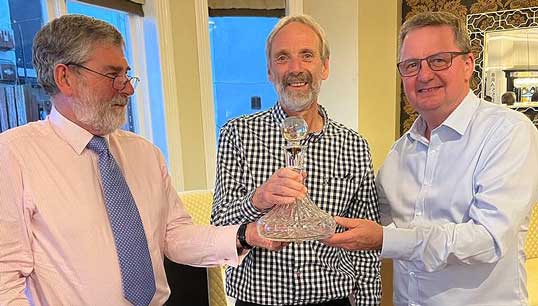 Staff and residents at Nautilus Mariners' Park have paid a fond farewell to its longstanding welfare manager, Mick Howarth.
Mr Howarth, who has stepped down after 10 years at the Union's Nautilus Welfare Fund charity for retired seafarers and their dependants, was presented with gifts and cards from staff and residents during a presentation at the beginning of June.
Nautilus general secretary Mark Dickinson paid tribute during the farewell event: 'Mick has been exemplary over the last ten years, leading our charity work on behalf of necessitous seafarers and their dependants. He has left behind a great legacy, and I am proud to have worked alongside him.
'Mick as ever was magnanimous in accepting these plaudits, emphasising – as always – the great team he has had at Mariners' Park. Every great team needs a star player, a captain and a good coach and Mick has been all of these.'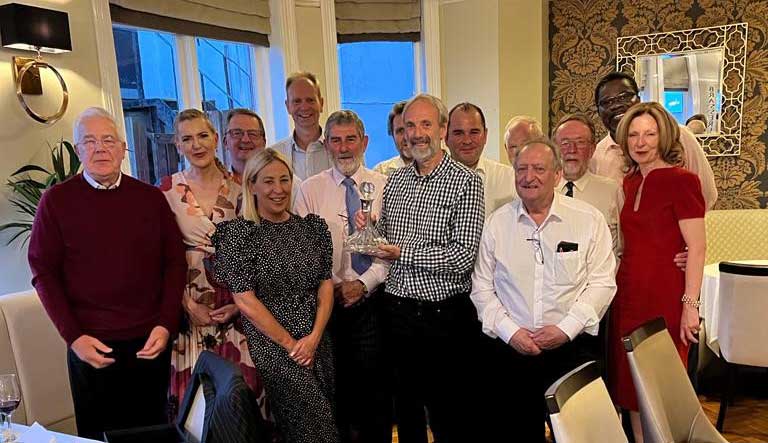 Mr Howarth said: 'It's been an honour and a privilege to have worked for the Nautilus Welfare Fund and contributed to the longstanding continuous improvement of the accommodation and services for retired mariners at Mariners' Park. Much has been achieved including the development of the extra care housing at Trinity House Hub; the building of 12 apartments at John Fay House; plus a major expansion of the caseworker service. These and other improvements have, of course, been a team effort.
'Throughout my time at Mariners' Park I have been blessed to have worked with so many staff who go "above and beyond" to support our beneficiaries. I will take away many happy memories of events with the residents, including in particular two royal visits.'
Mr Howarth also welcomed in the new Nautilus director of welfare and care, Andrew Jones. He will take forward further plans for extra homes and offices in the pipeline at both Mariners' Park Estate and the adjacent Gibson Park, where the much-loved Wallasey landmark, Gibson House, a Gothic-style turn of the century property that previously served as a care home for retired mariners, is being returned to its former glory in an investment worth over £10m.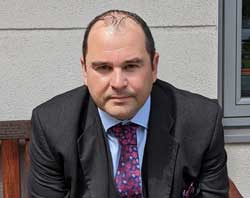 New director of welfare and care announced for Nautilus Welfare Fund charity
A new director of welfare and care, Andrew Jones, has been appointed to the Nautilus Welfare Fund charity.
Reporting to the Nautilus International general secretary, Mr Jones will lead the Union's Welfare Cluster in delivering services and benefits to members and be responsible for the delivery of welfare services to the eligible beneficiaries of the Nautilus Welfare Fund.
He will also take responsibility for a proposed new development at Mariners' Park, working closely with Nautilus assistant general secretary Olu Tunde.
Mr Jones will act as the secretary to the charity and the Nautilus Welfare Fund Committee, which reports to the Nautilus Council as the managing trustee of the charity.
His background includes 20 years' experience in the healthcare, education, charity and hospitality sectors and strong governance experience. Previously a director of hospital services at Fairfield Independent Hospital, Mr Jones is a trustee and vice-chair of the St Helens Millennium Centre and is active at Carmel College as a governor where he is a member of the renumerations committee and chair of the audit committee.
Mr Jones has a master's degree in business administration and is a member of the Institute of Healthcare Management and a chartered member of the Institute of Occupational Safety and Health.
---
Tags