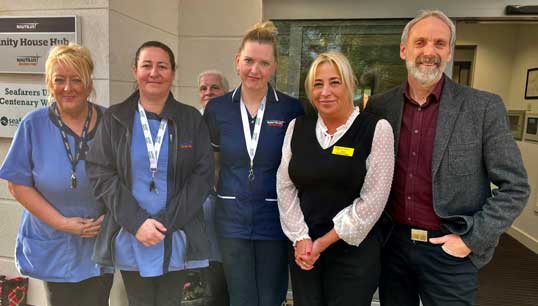 Retiring Nautilus Welfare Fund (NWF) manager Mick Howarth can point to many improvements for retired seafarers at Mariners' Park during his tenure, but he is most proud of the support for residents provided by a dedicated staff and welfare committee.
'Providing high quality accommodation and care services is very much at the heart of what the charity does, as well as promoting residents' wellbeing by keeping people fit and active and socialising,' Mr Howarth says.
Reflecting on change
The most visible signs of his busy 10 years of leadership are changes to the accommodation the Fund provides and improvements in care services. Some 56 new homes have been built and the charity has increased the total number of properties available at Mariners' Park from 106 to 125, including the 40-place state-of-the-art housing facility Trinity House Hub and its Seafarers' UK Centenary Wing. Further additions include apartments and four new bungalows, rounding out the full spectrum of high quality accommodation.
Mr Howarth emphasises, however, that the NWF is not just about creating new properties. 'We've also seen important strides with our care provision, such as the specialist dementia service at the Care Home and the appointment of an Admiral specialist dementia nurse. We've also expanded our home care service and have enhanced the staffing levels at our care home. The introduction of the activity co-ordinator has enabled us to offer a much wider range of activities and trips out, making a real difference to people's lives.'
He is also proud of the vital services the NWF provides through its now UK-wide network of six caseworkers, who help secure benefits and grants for retired seafarers.
Highlights
Key highlights for Mr Howarth and the residents include the royal openings of the Trinity House Hub in 2014 and the Seafarers' UK Centenary wing in 2017. But he puts the overall improvements down to a combination of 'a great team of hugely dedicated staff, who constantly amaze me with how they support our residents, often in very difficult circumstances'; a 'supportive welfare committee'; and relationships developed with other maritime charities.
'There are some fantastic people working very hard to bring improvements about for the lives of mariners. It's been great to be part of that.'
While the last two years have been challenging due to Covid-19, Mr Howarth is hopeful there is now light at the end of the tunnel.
And when he finally gets to retire there is a 'long list' of activities waiting, not least some long-anticipated holidays abroad, and some family history research.
Art on the Park
Trinity House Hub at Mariners' Park has long lived up to its name with a host of events and social gatherings that make it the centre of the community – Covid-19 restrictions notwithstanding.
---
Tags