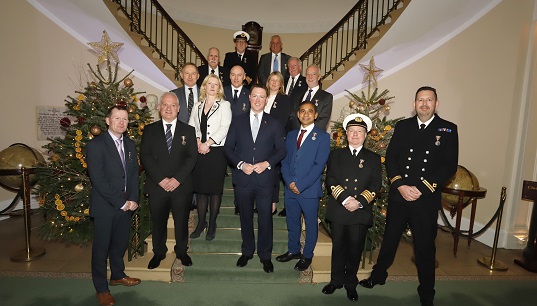 Fourteen maritime luminaries – including Nautilus members – have been honoured with British shipping's highest honour, the Merchant Navy Medal, at a ceremony held at Trinity House on 8 December 2021.
The award recognises the valuable contribution of those serving, or who have served, at sea in the UK Merchant Navy and fishing fleets. The first ceremony took place in 2005, and it became an official state award in 2015, with the power delegated from HM The Queen to the Secretary of State for Transport.
Twelve recipients were able to make it to London for the sixth annual award ceremony, with family and colleagues in attendance for this proud moment.
Unfortunately, HRH Princess Anne – who is also Master of Trinity House – was unable to attend as in previous years, but a letter from the Princess Royal was read aloud that offered the winners both her congratulations and her thanks for their exemplary service.
Medals were therefore presented by the maritime minister Robert Courts MP.
In addition, there were addresses from cadet Jasmine Johnston of Warsash Maritime School, who read aloud a history of the Merchant Navy, plus Petra Wilkinson CBA, maritime director at the Department for Transport (DfT) and DfT permanent secretary Bernadette Kelly, who expressed her profound appreciation to the winners for their work on safety, charitable endeavours, training and recruitment, diversity, welfare during the pandemic, and other services to maritime pensions and freedom of navigation in the Middle East.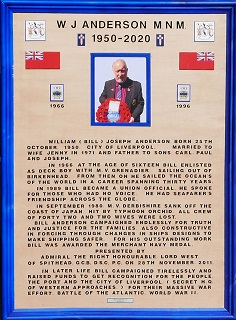 Campaigner remembered
Former Merchant Navy Medal awardee Bill Anderson has had his lifetime of service remembered posthumously in an honours board in the Liverpool Seafarers' Centre. Unveiled in December 2021 by Mr Anderson's widow Jenny and brother Joe, the board recognises the late bosun's tireless work for the Derbyshire families and Merchant Navy veterans.
Image: honours board created by Neville Greenhalgh
---
Tags