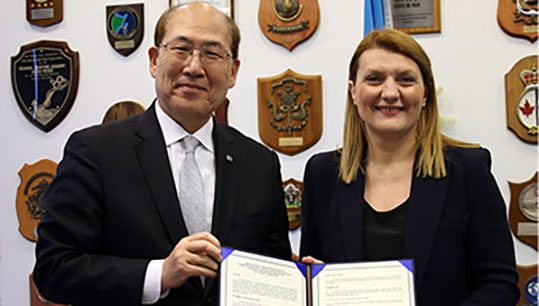 Nautilus has welcomed a new initiative to promote greater diversity in the maritime sector.
The International Maritime Organization (IMO) and the Women's International Shipping and Trading Association (WISTA International) signed a memorandum of understanding (MOU) in January. This is expected to lay the groundwork for further progress on creating a sustainable and diverse maritime industry.
Nautilus International general secretary Mark Dickinson said: 'We have been working to improve the maritime gender balance, and look forward to continuing cooperation with leaders from across the maritime sector to ensure that the voices of our female maritime professionals are heard and placed at the heart of any new diversity initiatives.'
The new agreement was a welcome global expansion of the UK's Women in Maritime Taskforce, he said.
Any new initiatives would be keenly observed further at IMO meetings when Nautilus, through its affiliation with the shipmasters' associations IFSMA, attended as part of their delegation.
The MOU commits IMO member states to provide women seafarers with training opportunities, promote greater engagement for women in maritime through workshops and ensure a better gender balance on speaker panels at global conferences or events, as well as encourage a raft of other diversity initiatives.
Initiatives already under way with WISTA International include a study to collect and analyse data on the number of women employed in the maritime sector; and the global expansion of a database of female experts in a wide range of maritime subjects available for speaking engagements to make panels more diverse.
Separately, a draft resolution in December 2019 by the International Transport Worker's Federation (ITF) was accepted by IMO Assembly to preserve the legacy of the world maritime theme for 2019 on achieving a barrier-free working environment for women in the maritime sector.
The new MOU will also enable activities to support the implementation of this resolution A.1147(31)
Another key part of the IMO/WISTA International MOU is to strengthen cooperation and share best practices between the IMO-established regional women in maritime associations and WISTA national associations.
WISTA International covers female workers in all sectors of the maritime industry, from seafarers to lawyers, through to workers in national administration.
---
Tags