Federation
Mandatory overtime pushing Panama Canal tug captains to the edge, unions say
19 January 2022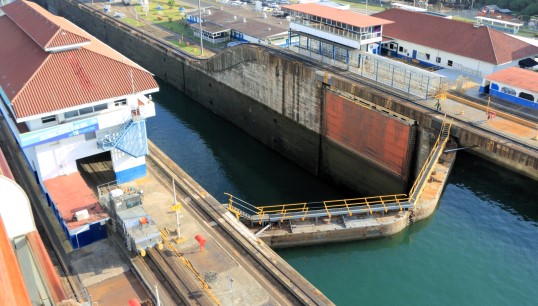 The International Organization of Masters, Mates and Pilots (MM&P), an affiliate of the Nautilus Federation, has reported ongoing fatigue issues at the Panama Canal.
Members of the union for tug captains in Panama, Unión de Capitanes y Oficiales de Cubierta (UCOC) – affiliated to MM&P and also to the Nautilus Federation – have faced suspension and dismissal from duty for taking part in a long-running dispute over working conditions.
In December 2021, an exhausted tugboat captain fell asleep while assisting an LNG vessel in the expanded Panama Canal locks.
'The tug struck the ship,' a coworker said, 'and the impact was so hard that his body and head hit the tug's front window.
'We've had a few incidents like this in recent months. This is the latest.'
Fatigue – an ongoing problem since the expanded Panama Canal was inaugurated in 2016 – is taking an increasing toll on the health of the canal's workers and posing a risk to the global supply chain. Shortages of personnel and equipment have long been the rule. Mandatory overtime is exacerbating the situation.
Line-handling accidents occur with regularity. One claimed the life of a line-handler in 2018. There have been other deaths, too, including two tugboat crewmembers who died from stress-induced heart conditions in 2021. Two others suffered strokes, but survived.
'The crisis on the Panama Canal has the potential to impact international trade to an extent far greater than the grounding of the Ever Given in the Suez Canal last year,' said MM&P president Don Marcus.
'Unlike the situation in the Suez Canal – which is simply a ditch – if a single lock gate were to be breached, it would take months to repair. In the meantime, the Panama Canal would be closed to all Neopanamax vessels.'
Marcus attributes many of the hazards faced by tug captains to the poor design of the expanded canal, which has given rise to a much more labour-intensive process of vessel transit.
In the old locks, electric locomotive 'mules' run on tracks along the walls of the chambers and mooring wires and tension winches are used to maintain transiting ships in position. In the new locks, tugs are continuously required to position vessels in transit. This puts great strain on the operators, who are often at the controls for many hours without relief.
'Shifts of 12 hours and even longer are the norm,' a UCOC official said, 'and the weekly schedule is a minimum of seven days in a row including midnight watches.'
Nautilus and its international partners have previously expressed 'deep disappointment' at the Panama Canal Authority's (ACP) response to concerns about unsafe working practices.
---
Tags