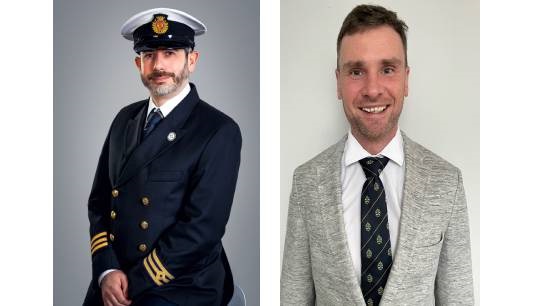 The 2023 Merchant Navy Medal recipients have been announced, with 11 seafarers to receive the highest medal of honour within the UK maritime sector.
Broadcast on Merchant Navy Day 2023, the recipients include engineer Allan Dickson, Captain Ewan Rattray and Captain Charles Woodward.
Merchant Navy Medals have been awarded since 2016 for significant contributions to the maritime industry. Each year, seafarers are nominated by their colleagues, friends and family for the medals.
Mr Dickson's nomination was for services to Merchant Navy careers. He is currently serving as a second engineer and has just completed his chief engineer officer certification. He was recently elected to Nautilus Council and has been a Merchant Navy Training Board (MNTB) Careers at Sea Ambassador for several years.
Mr Dickson said: 'I am deeply humbled to be among this year's recipients of the Merchant Navy Medal. I volunteer my time to talk to students because I enjoy telling people about my career and the great opportunities that are available in the Merchant Navy.'
Capt Rattray was honoured for advocating safety following a life-changing injury in 2019, which brought his career as a pilot to an abrupt halt. While boarding a ship via the pilot ladder, his leg was crushed – forcing him to navigate a complex journey of surgeries and healthcare while also adapting to a new desk role within the maritime sector.
His five years of safety campaigning in the marine pilotage sector led the International Maritime Organization to review the rules governing the safe transfer of maritime pilots to and from vessels.
Capt Rattray said: 'There is a remarkable team of international pilots and seafarers, tirelessly working behind the scenes to ensure the safety of maritime pilots. To be acknowledged for my contribution to this noble effort is a humbling experience.'
Captain Woodward was nominated for promoting the Merchant Navy and commemorating the sacrifice of seafarers. As vice-chair of the Merchant Navy Association (MNA) he was kept particularly busy at the 2023 London Merchant Navy Day remembrances at Trinity House.
'I am deeply honoured and proud to be recognised in this way. The Merchant Navy has been my life for many years and to have received this award is testament to the mentoring, training and friendship I have received from masters, officers and ratings alike over those years,' said Capt Woodward. 'I hope that I can continue to merit this citation for years to come.'
The full list of 2023 recipients who will be presented with their medal at a ceremony in London in November are:
Allan Dickson for services to Merchant Navy careers
Capt. Ewan Rattray for services to the safety of marine pilots
Capt. Charles Woodward for promoting the Merchant Navy and commemorating the sacrifice of seafarers
Katy Womersley for contributions to seafarers training and sector diversity
Dr Alan Stephen Bury for services to maritime education
Capt.Philip Mark Peter Cave for services to seafarer welfare
Capt. John Lloyd for services to maritime education
CPO Martin Etwell for services to the RFA
Donnacha O'Driscoll for services to seafarer welfare and cruise sector pandemic recovery
Capt. William John Pearn for services to Marine Pilotage and Safety
Raymond Strachan for services to life saving actions
---
Tags