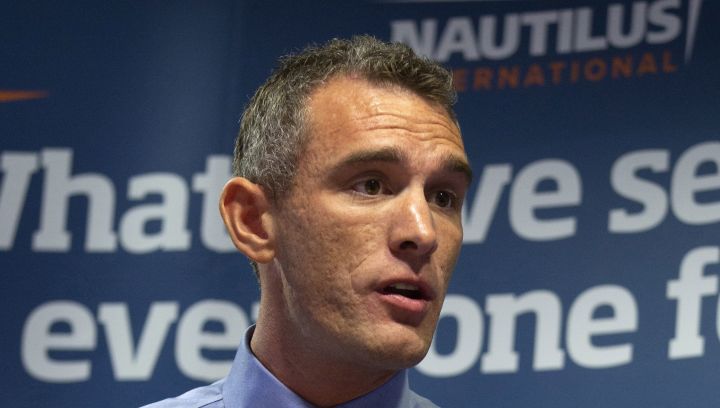 Nautilus Champion and Council member Captain Fraser Matthew will speak at a sustainability roundtable being hosted by the International Transport Workers' Federation (ITF).
Capt Matthew will be on a panel of speakers at the launch of the ITF's Sustainable Shipping Policy on Friday 29 October at 1pm BST. The industry roundtable will feature key voices from across the industry including shipowners, industry experts, and seafarers themselves.
Seafarers are already seeing the impacts of climate change in their working lives and in their communities. The roundtable's panel will discuss and debate what a just transition from fossil fuels will look like for seafarers internationally. The panel will discuss the opportunities that the challenge of decarbonisation brings to improve training, health and safety, workforce development, and career pathways for seafarers, as well as the potential risks to seafarers as the industry attempts to quit carbon.
Speakers include:
David Heindel (moderator) – chair of the ITF Seafarers' Section and ITF Sustainable Shipping Working Group and secretary-treasurer of Seafarers' International Union (SIU). A former seafarer himself, Mr Heindel will launch the policy and lay out its key challenges to industry and governments.
Guy Platten – secretary general of the International Chamber of Shipping (ICS) will talk about the steps needed for shipowners to reach net zero carbon emissions by 2050.
Stephen Cotton – general secretary of the ITF, Stephen will place the new policy into the context of how transport sectors are stepping up to make the transition and key lessons learned and challenges for the shipping world.
Katherine Palmer – shipping lead at the UN High Level Climate Champions team for COP26 will talk about the significance of the new policy in relation to the decarbonisation of shipping.
Working seafarers will also be offering their views on the opportunities and risks that they see for seafarers and their communities in the transition to a sustainable shipping future. Guest seafarers include British Captain Fraser Matthew (Nautilus), US seafarer Lindsey Austin (SIU) and Indian seafarer Sooraj Chandran (NUSI)
The event is open to ITF affiliates, seafarers, employers, investors, industry associations, press, and the wider public.
You can register for the online event here.
---
Tags