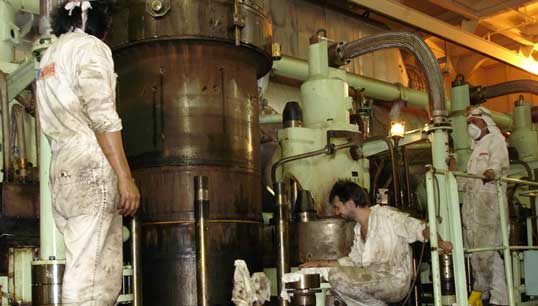 The UK Maritime & Coastguard Agency (MCA) has launched online deck and engineering oral exams, in response to pressure from Nautilus.
Candidates with job opportunities in the pipeline, who have met all the other certification requirements and are only waiting for their oral exams may also get help expediting their application.
Nautilus professional and technical officer David Appleton welcomed the move: 'This is excellent news. We thank the MCA for their swift action on this matter which, alongside other measures already announced, will greatly assist in minimising the impact of this crisis on officer trainees.'
From 5 May the MCA will be in contact with candidates who have had their oral exams cancelled. Candidates will be able to re-book exams starting with engineering oral exams in the week commencing 11 May 2020 and deck exams in early June.
The MCA will not accept any new oral exam bookings until it has cleared the existing backlog.
MCA will publish further guidance on the online process this month, including timelines for future booking of exams for those who hold Notice of Eligibilities (NOEs), those who have applied for NOEs and those who are about to apply.
Seafarer Training and Certification (STC) branches will accept NOE applications by email, however, the MCA will withhold the issue of new NOEs until it has allowed those who have had their exams cancelled an opportunity to re-book an online oral exam.
It will then prioritise Officer of the Watch (OOW), Engineer Officer of the Watch (EOOW) and Electric-Technical Officers (ETOs) to allow them to gain their first Certificate of Competence (CoC) and start work as an officer.
Expedited application requests for candidates with a job opportunity should be made by the employer to deck@mcga.gov.uk or engineering@mcga.gov.uk confirming the job offer and the date required onboard.
MCA has been running trials of the online exam system for three weeks.
The Australian Maritime Safety Authority (AMSA) has been conducting oral exams via Skype since 19 March.
---
Tags