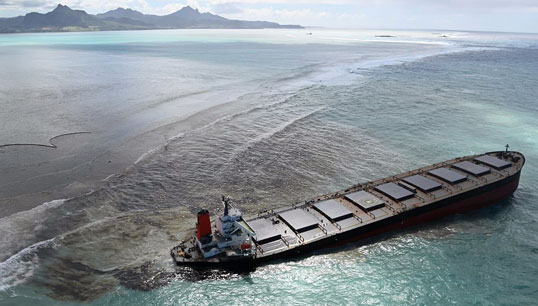 Nautilus International has called for the government of Panama to step up, after Mauritius declared a 'state of environmental emergency' on Friday 7 August, when a Panamanian-registered, Japanese-owned bulk carrier that ran aground last month began spilling fuel into the Indian Ocean.
The MV Wakashio – owned by Okiyo Maritime Corporation and Nagashiki Shipping Co Ltd – was carrying nearly 4,000 tons of fuel en route from China to Brazil when it struck a reef on Pointe d'Esny, a known sanctuary for rare wildlife. The accident happened on Saturday 25 July.
Nautilus general secretary Mark Dickinson said: 'Japan owns the Wakashio, but the vessel is Panama-registered, which means that under the United Nations Convention on the Law of the Sea (UNCLOS), it would be the responsibility of Panama. So, the question is why Panama is not leaping into action?'
Cracks appeared in the vessel's hull last week and Mauritian Prime Minister Pravind Jugnauth announced the state of emergency after satellite images showed a dark slick spreading in the turquoise waters near environmental areas that the government called 'very sensitive'.
He said the spill 'represents a danger' for the country of some 1.3 million people that relies heavily on tourism and has been hit hard by the effects of the coronavirus pandemic.
'Our country doesn't have the skills and expertise to refloat stranded ships.'
On Tuesday 11 August the International Maritime Organization (IMO) announced that it was joining the international efforts to assist the Government of Mauritius.
The IMO and the United Nations Environment Programme (UNEP)/United Nations Office for the Coordination of Humanitarian Affairs (OCHA) Joint Environment Unit have jointly deployed an oil spill response expert.
France announced on Monday 10 August that it is sending a military plane and a naval boat – both carrying pollution control equipment – to help deal with the oil spill after Mr Jugnauth appealed for help.
French President Emmanuel Macron tweeted on Saturday 8 August. 'When biodiversity is in peril, there is urgency to act. France is there. Alongside the people of Mauritius. You can count on our support dear Jugnauth.'
On Sunday 9 August, Japan announced it would dispatch a six-member team to assist the French efforts.
A statement made by Nagashiki Shipping Co Ltd on Friday 7 August said 'due to the bad weather and constant pounding over the past few days, the starboard side bunker tank of the vessel has been breached and an amount of fuel oil has escaped into the sea'.
---
Tags