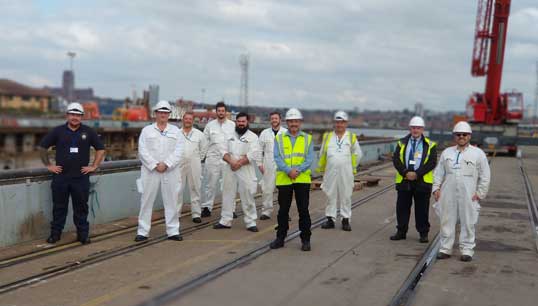 Nautilus members working on the Royal Fleet Auxiliary tanker RFA Wave Knight can now look forward to seeing the results of substantial refurbishments onboard, including improved accommodation.
Nautilus liaison officer Dave Gatenby and the Union's national organiser Steve Doran carried out an inspection of the RFA Wave Knight in August, as the vessel neared the end of a substantial refurbishment after 20 years' service.
The refit, which started in March and is being carried out by Cammel Laird shipyard in Birkenhead, includes substantial accommodation improvements, as well as an overhaul of general mechanical and sea equipment, hull and steelwork modifications and upgrades to military communications.
The 196-metre civilian-manned vessel returned to the UK in February 2020 after seven months away, mostly in the Middle East, where it was used as a 'floating service station' as part of its role in providing direct maritime support to the Royal Navy and coalition warships.
During the visit, the Union looked at various accommodation areas including the cabins, galley, mess rooms and the library. Discussions included Covid-19 safety measures in place onboard.
Mr Gatenby and Mr Doran also held a meeting with Nautilus members at the RFA, which provided an opportunity to update them on the Union's work and key issues such as pay, pensions and other terms and conditions, and discussed new opportunities for communication across the membership.
---
Tags