Welfare
Sacrifice of seafarers captured in winning image for ITF Seafarers' Trust photo competition
25 June 2021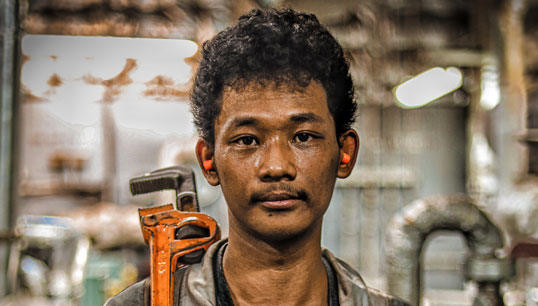 Ordinary seaman Aljon Manlangit captured a portrait of sacrifice in his winning snap of a colleague for the 2021 ITF Seafarers' Trust 'Out of Sight Not Out of Mind' photo competition, which shines a light on seafarers' experiences during Covid-19.
The portrait shot, titled 'Papa is tired, but Papa will never give up', was taken onboard a vessel at Kavkaz OPL, Taman in Russia. It shows fellow crew mate Wendell Pindeda after work on the inert gas system.
The Trust said that behind this image was 'the sad, but all too common, story of a father's self-sacrifice. After his first contract as an engine boy, Wendell embarked again after less than three weeks in his home country, spent entirely in the quarantine facility of his province.'
The competition is part of the Trust's campaign to capture the experiences and contributions of seafarers during the Covid pandemic. The winning image will be featured on the cover of a book celebrating seafarers and their work, which is being issued to mark the 40th anniversary of the ITF Seafarers' Trust. A further 39 images will be included, with each photographer receiving a fee of £100. The winners were announced on the Day of the Seafarer.
Mr Manlangit, who received £1000 for his entry, said he was thrilled to win: 'Winning this competition really means a lot. It will boost my confidence and inspire me to take great and meaningful shots. And having my photo on the cover of the book about seafarers makes me feel very proud. I can now finally share my photos and tell our story to the world. I hope people will see it and recognise the work and sacrifice that we make to keep this world moving forward even at this time of pandemic.'
Head of the Trust Katie Higginbottom said: 'The Seafarers' Trust, working with partner unions and seafarers' welfare organisations, have supported seafarers through the pandemic and this includes gathering and sharing their stories so that their contribution and experience during this time is not lost and we can use it to help build a fairer future for seafarers – the theme of this year's Day of the Seafarer.'
This is the second Trust photo initiative of its kind. Thousands of seafarers entered the 'Still at Sea' competition in 2020, which captured images of life at the height of the global pandemic.
---
Tags