International
Sailors' Society secures release and repatriation of MT Manaman 8 seafarers
10 September 2021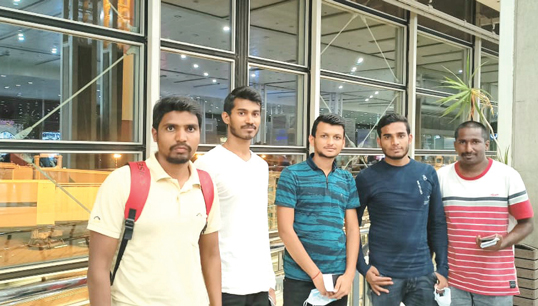 Five Indian crew, wrongly imprisoned in Iran, have finally been released and reunited with their families thanks to an intervention from Sailors' Society.
Deepak Ravi and four fellow Indian crew spent six months in an Iranian prison after being arrested on suspicion of transporting illegal oil in March this year.
In despair, after weeks of trying to prove their innocence, Deepak's family contacted Sailors' Society's India community development manager Manoj Joy.
Deepak said: 'I'd been on board MT Manaman 8 for 16 months when we were arrested and put behind bars by the Iranian Coastguard. From the prison, we contacted several people to help us but unfortunately we did not receive any support. It was only after Manoj got involved that things started to move in a positive direction and we had hope.'
Manoj supported the crew and their families throughout their ordeal, providing comfort and advice and advocating for their release alongside the Indian Embassy and the Society's contact in the Middle East, Shaheen Sayyed.
The young seafarers were found innocent of all charges but were abandoned by their shipping company and agent, and having not received any wages for several months found themselves without the means to pay for their release or return home
Sailors' Society stepped in to organise their release and repatriation, as well as coordinating with maritime partners The Seafarers' Charity, Stella Maris and the Mission to Seafarers to jointly fund the costs of their homeward journeys.
Sara Baade, CEO of Sailors' Society, said: 'We're honoured to have helped the MT Manaman 8 crew and are so delighted that they are finally home safe and sound with their families. Our team has worked hard alongside Shaheen Sayyed to support them and secure their release and we are grateful to our charity partners for helping us to fund their return journeys. We will continue to be there for the crew as they recover from their ordeal. Sadly, we have seen other cases similar to this and urge any seafarers who find themselves in difficulty to contact us.'
The five seafarers touched down on Indian soil last week and have since been reunited with their families.
For crew member Dheerendra, it had been his first contract at sea. Dheerendra said: 'It was my first voyage and I was thoroughly enjoying my job. My enjoyment was short-lived though, as eight months in we were arrested and sent to prison.
'It was Sailors' Society who came to our rescue. On behalf of my colleagues, I thank Sailors' Society for saving our lives. We will never forget Sailors' Society for this help and I am very happy to be back home with my family.'
---
Tags