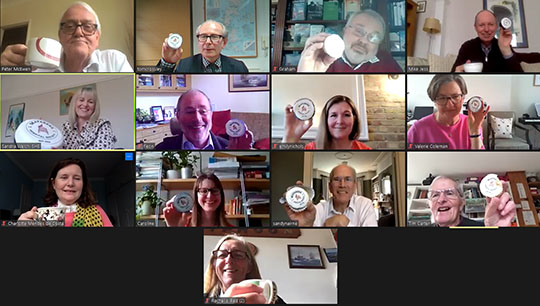 The Seafarers Hospital Society has celebrated its 200th birthday with a virtual tea party.
Staff and trustees marked the occasion on zoom with a cup of tea and a slice of birthday cake.
CEO Sandra Welch said: 'We had a cake made locally and sent individual cupcakes to all our guests. It was a great way to celebrate.'
SHS Chair Peter McEwen added: 'Although the way we work has changed, the health and wellbeing of seafarers remains at the heart of what we do.'
The society was established in 1821, when merchant seafarers returning from the Napoleonic Wars were dying in the streets of London with no access to medical care. SHS took care of them, setting up floating hospital ships on the Thames at Greenwich.
Today SHS continues to support seafarers through hard times, providing grants for essential items and access to free health and wellbeing services.
In 2020 SHS awarded over a quarter of a million pounds in grants to 455 seafarers and their families – an unprecedented sum for the charity. This included 200 Covid-19 related grants worth just under £100,000. SHS grants covered disability aids and equipment such as electrically powered vehicles, adapted shower facilities and riser/recliner chairs, as well as essential household goods, clothing, payment of priority debts, urgent living expenses, respite breaks, funeral costs and other pressing welfare requirements.
Leftover cake will be distributed to retired and working seafarers at Queen Victoria Seamen's Rest (QVSR) in London's East India Dock Road.
---
Tags