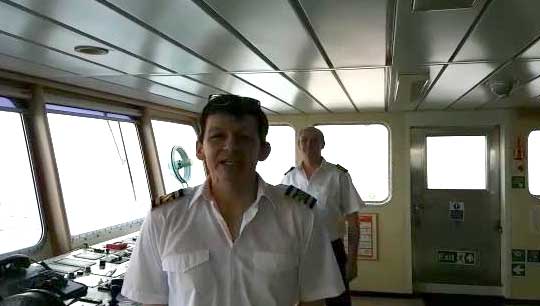 Ships' horns sounded in unison across UK ports and sea crossings on Thursday 2 April 2020, in what has become a weekly UK evening event to provide cheer to frontline essential workers during the Covid-19 pandemic.
A master onboard a vessel owned by James Fisher, the Cumbrian Fisher, sounded its horn while traversing the Irish sea.
The master recorded the video in support of all frontline key workers, which the UK Government has agreed now includes seafarers - a move which the International Maritime Organization has urged all governments to do.
'We are showing our appreciation to essential frontline workers at this difficult time. A big thank you and keep up the good work,' said Captain Tony O'Malley onboard the bridge of Cumbrian Fisher.
Another message of appreciation was also tweeted by a second officer at Saga Cruises, 'from us on Spirit of Discovery to all the hardworking staff and volunteers of the NHS.'
There were maritime shout-outs to tankers, boxships, tugs, cargo ships and pilots working around the clock. One tugboat skipper said: 'Out tonight to #clapforkeyworkers for all the #merchantnavy keeping all the goods coming into ports around Britain.'
Various ports also took to social media to voice their support for workers in the maritime sector. Port of Tyne said on Twitter: 'At 8pm this evening, ships across the UK will be sounding their horns in support of those who are working tirelessly to keep our country moving - incuding #port workers, #seafarers, and #NHS workers.'
---
Tags